Monday, February 21, 2022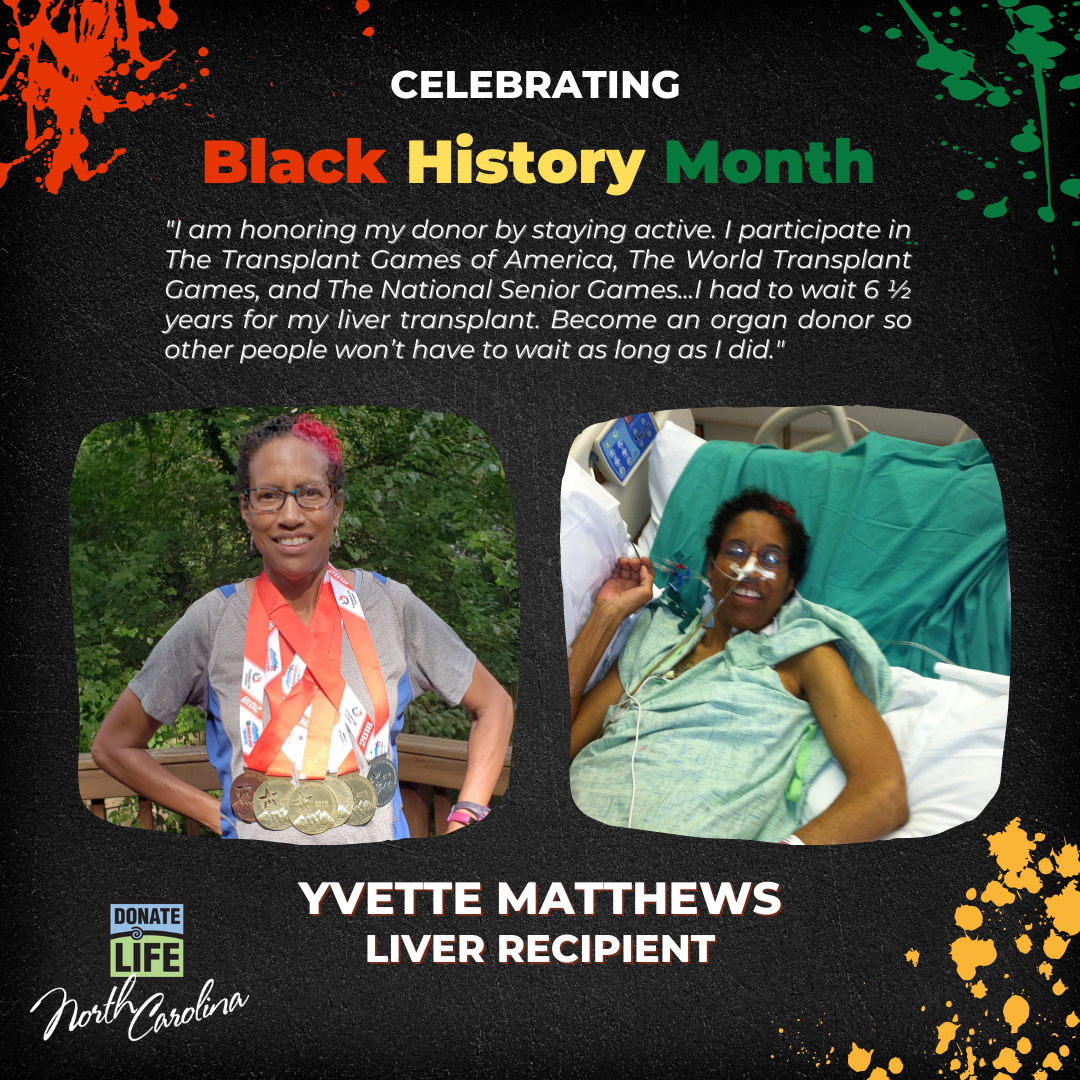 My name is Yvette Matthews and I have lived in Durham for 5 years. I'm retired, but I currently work part time as a school bus driver for Wake County.
Do you know who your donor was?
I do not know who my donor was.
What was the day of your surgery like?
First, I'd like to say that the day before my transplant, I was in church. On the 1st Sunday of every month my church had a healing service. I would go up every Sunday for the laying on of hands. It would be maybe 30 seconds of healing prayer. On this particular Sunday, the day before my transplant the healer prayed over me for about 5 minutes. She prayed for me, my doctors, my nurses, hospital staff, and anyone else who would be helping me.
On the day of my surgery, I was sitting at home eating a bowl of soup when the phone rang. I saw that it was University of Colorado hospital calling so I thought it was my nurse or doctor calling me for something. It was something all right. My nurse was calling to let me know that after waiting for 6 ½ years a liver had finally become available for me. She explained to me that the liver was a DCD (Deceased by Cardiac Death) donor. After talking to my doctor who explained to me that at my age (56) and the fact that I had been on the list for so long it would be a good idea to accept the liver. He'd had other patients with DCD livers who were doing very well. So, I said yes. My nurse then told me that I had 1 ½ hours to get to the hospital. I called my friend KC who lived up the street to let her it was time to go to the hospital. I was already packed. I only needed a shower. I called all my family and friends while we were driving to the hospital.
How was your recovery and what did you learn through the process?
I was in the hospital for a month. I had to go back into surgery twice for complications. I was in a lot of pain. I became diabetic from the steroids. One other person had a liver transplant after me and went home before me. I learned from the process that I have a lot of very good friends. My friends brought meals to my family and to me after I got home. My friend Pam who lived in Virginia stayed with me for a month as my caregiver. I also learned that I could handle more pain than I realized.
Is there a statement you'd like to highlight about your journey?
Never give up and honor your donor by making the most out of your life post-surgery. I say never give up because I waited 6 ½ years for my transplant. I am honoring my donor by staying active. I participate in the Transplant Games of America, the World Transplant Games, and the National Senior Games. I currently hold the world record in long jump and ball throw for my age group at the World Transplant Games. Team NC Transplant Athletes are going to the Transplant Games of America in San Diego, CA this summer. If you are a transplant recipient, living donor, or donor family please join the team at https://nctalife.org. I do volunteer work for Donate Life NC and the Red Cross as well as drive a school bus.

Can you share a statement that may inspire someone to register as an organ, eye, and tissue donor?
I had to wait 6 ½ years for my liver transplant. Become an organ donor so other people won't have to wait as long as I did.
Yvette Matthews, liver recipient