Monday, July 16, 2012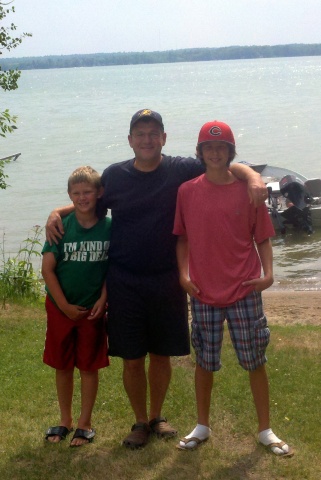 Jerry Smigelski, Jr. and his dad have many things in common, like most parents and their children. However, one of their connections is more unusual than most: both men are heart transplant recipients. Jerry's father had a heart transplant 15 years ago at the University of Michigan. Jerry followed suit, receiving his new heart at Duke University Hospital on October 4, 2010. Now, both Jerry and his father will be competing in their first Transplant Games of America 2012 in Grand Rapids, Michigan.
Hobbies: Coaching my sons' baseball teams; golf, spending time with family/friends
How did you learn you needed a heart transplant?

I was diagnosed with a hereditary heart condition in May of 2004. I was under the evaluation of the Duke Transplant team and monitored from 2005 until my transplant date. I was not officially on the national waiting list until my condition was deemed critical in September of 2010.
What events will you participate in at the games?
I will participate in the 5k run/walk, table tennis, badminton, and golf. I have trained for these events by continuing my daily exercise routine.
What motivates you to compete in the Transplant Games?

My motivation for competing is the Transplant Games is twofold. First, it is an opportunity for many transplant recipients to come together as a big group. It allows us to share our experiences and bond. Secondly, participating in the Transplant Games is a way to show appreciation for the gift that was given to me. It is a way to show respect to the donor family that gave me the ultimate gift.
What has your transplant allowed you to do with your life that you previously thought unlikely or impossible?
The transplant has allowed me to be more active in life and with my kids (Matthew, 14, and Aaron, 9). It has given me energy to actually live my life. In addition, it has given me hope that I will be able to be around for those that I live. I will now actually have a chance to see my children grow up. I am truly thankful for the donor families and medical staff for giving me a second chance at life.
How do you support organ donation and transplantation in your community?
Informally, I have always been open about my transplant. I share my story with as many people as I can because organ donation is truly an important step in providing an unselfish gift to others in need. In my community, I have also spoken to several middle school classes about my condition, the transplant procedures, and organ donation.
Photo: Jerry (center) with his two sons, Aaron (left) and Matthew (right)