Friday, July 13, 2012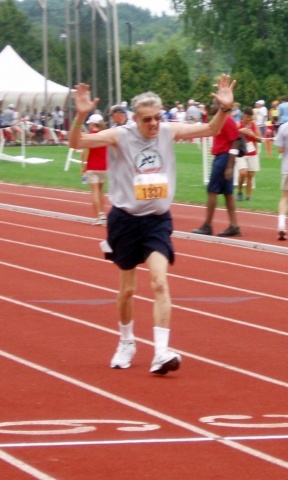 Al Milek's transplant allowed him to see both children married and two grandsons born. Al and his wife, Barbara, have been staunch advocates for donation and transplantation since Al received his new heart on July 23, 2006 from Duke University Hospital.
Occupation:  Retired Insurance Financial Analyst
Hobbies: Kayaking, swimming, skiing, geocaching, running
How did you end up needing a heart transplant?
I had a massive heart attack and should have been dead on arrival.  When conventional treatments did not work, I was given an Left Ventricular Assist Device (LVAD) for heart support.  When that did not work, I was placed high on the transplant list and received my heart in 20 days. I was in a drug induced coma for 47 days and woke up with a new heart.
Have you participated in previous U.S. Transplant Games? If so, which ones?                                   
I have competed in the 2008 and 2010 games. In 2008 I did the 500 yard swim and a 5k time trial bike ride. In 2010 I did a virtual triathlon doing the 500 yard swim, 5K run and 20K bike at different times. Also, I took home a bronze medal in the 400 meter dash.
What events will you participate in for the 2012 games? How did you train for these events?
The main event I want to do is the 500 yard swim. I am also swimming the 100 yard breast stroke and the 50 yard back stroke. On the track I am going to do the 400 meter dash. It is once around the track for my donor. I am also doing the 1500 meter race walk and if I have anything left, I will compete in the softball throw
What motivates you to compete in the transplant games?
The 2006 games took place on the same weekend as my heart transplant. I heard about the games within days of the surgery and made it a goal to participate in the next games. After attending once I knew I had to go back. The sharing between recipients and donor families was something I had never experienced. Everybody is a hero. Recipients treat donors and their families as heroes. The donor families watch in awe. It is not about winning-  it is about being there. We all come home as champions. We also do it to promote donation and to prove that transplants work.
What has your transplant allowed you to do with your life that you previously thought unlikely or impossible?
It basically allows me to continue my life that we thought was over.  Since my transplant both my children were married and I now have 2 grandsons. I participate in church activities and assist in leading the local Boy Scout Troop.  I have been greatly blessed.  I close every letter and email with Celebrate Life 
How do you support organ donation and transplantation in your community?
My wife and I volunteer with Carolina Donor Services at health fairs and events supporting organ donation.  I am currently the team leader for Team Carolinas and intend to promote the transplant games and raise money for future games and greater participation.