Monday, January 21, 2013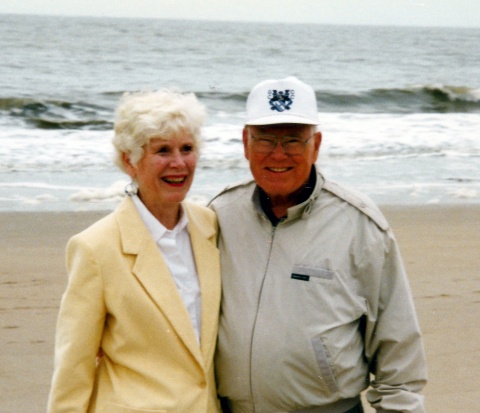 My late husband and I met Carl and his wife when we were both young, married couples. We became good friends and together enjoyed watching our children grow to adulthood. Carl and his wife, Margie, moved to other locations and ended up retiring to Florida. Both of our spouses died, and Carl and I reconnected. Eventually, we married in 1990.
Carl's family had a history of heart disease, but it not hinder him from thoroughly enjoying life. He was an avid golfer, and there were always at least four buddies eager to play. Carl loved to travel, and he was constantly at the computer checking out interesting places to visit in the U.S. and abroad.
The first incident of trouble happened in November 1996 when we were traveling to Wilmington to meet Carl's daughter, Cindi. Instead of vacationing, we ended up at emergency room where Carl was diagnosed as having a heart attack. In order to return to home in Brevard, a friend flew his plane to Wilmington and brought Carl to the hospital in Asheville. He ended up receiving a stent here.
Time passed and we resumed our lives, which now included regular trips to the cardiologist and some late night visits to the local emergency room. Carl still enjoyed his regular activities of golf and travel, even after a multiple bypass surgery in December 2002.
Carl and I discussed our desires to be organ and tissues donors with each other. We also made those wishes known in our living wills and designated our status on our driver's licenses.
On the morning of October 8, 2007, Carl called his friends and arranged for a golf game for the following day. That evening he went to the local county library, where he served as treasurer, to pick up the day's earnings from the book sale. He came home, greatly agitated, and asked me to call 911. EMS arrived and transported Carl to the local hospital; he was subsequently transported via helicopter to Mission Saint Joseph in Asheville. I followed in my car, but Carl died before I arrived.
Later that night, I had a conversation with staff members from the recovery organization LifeShare Of The Carolinas and shared with them Carl's wishes to be a donor. I learned after that donation they were able to recover his tissues, including long bones, to help others regain mobility and experience improved qualities of life.
 I was glad that Carl's wishes were honored and that he was able to improve many lives because of his willingness to donate.  Also, I'm so glad we discussed our decisions to be donors together before anything happened. It gave me peace in knowing that I was carrying out exactly what Carl wanted.

-Freddie Hart, Donor Wife