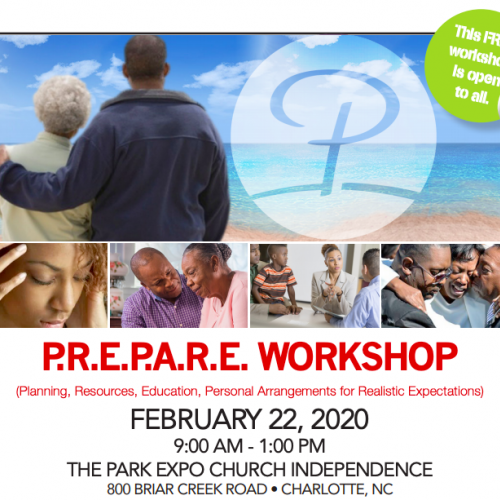 The Park Church P.R.E.P.A.R.E Workshop
When: Saturday, February 22nd, 2020 at 9:00am to Saturday, February 22nd, 2020 at 2:00pm
Join Donate Life NC at The Park Church P.R.E.P.A.R.E. WORKSHOP!
(Planning, Resources, Education, Personal Arrangements for Realistic Expectations)
FEBRUARY 22, 2020
9:00 AM - 1:00 PM
THE PARK EXPO CHURCH INDEPENDENCE
800 BRIAR CREEK ROAD • CHARLOTTE, NC
Other experts in Wills, Trusts, Estate Planning, Burial Planning, Insurance, Assisted Living and more will be on hand to answer your questions. In addition, information will be provide for:
• Families of veterans & military personnel
• Single parents
• Married couples
• Seniors
• Concerned sons and daughters
A special Caregiver panel will address the unique needs of caregivers and offer solutions and tools to help you take care of "YOU." Get the appropriate information and support you need for you and your loved ones. Free breakfast served from 8:15 A.M. to 8:45 A.M.

Childcare will be available – registration is required so register today at theparkministries.org