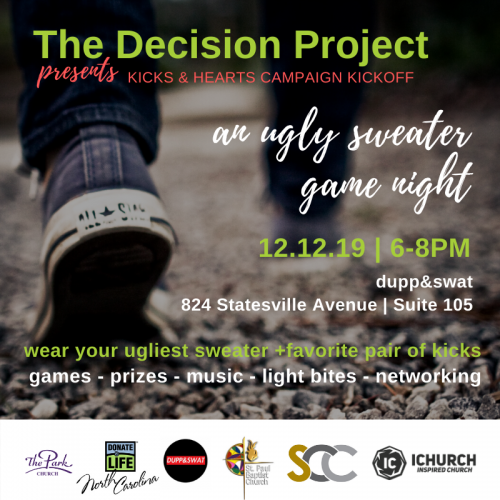 The Decision Project - The Decision Project Presents: Kicks and Hearts Campaign - An Ugly Sweater Game Night
When: Thursday, December 12th, 2019 at 6:00pm to Thursday, December 12th, 2019 at 8:00pm
Come dressed in your favorite pair of kicks and ugliest sweater! Enjoy games, music, light bites and prizes!
The Park Church and Donate Life NC's new multicultural outreach (The Decision Project) have teamed up to collectively promote our causes with the Kicks and Hearts Campaign.

Through Kicks and Hearts, low-income individuals will receive donated sneakers and the community as a whole will learn more about the lifesaving gift of organ, eye, and tissue donation.

The excitement and joy of the shoe shopping experience is something that low-income individuals often miss, and the important conversation around registering to be a donor typically goes unspoken.

This initiative will be a collaborative multi-agency effort taking place through three key events in Charlotte, the first taking place at Dupp&Swat, a local creative studio, event space, and fashion boutique
located at Charlotte's popular Camp NorthEnd.
https://www.classy.org/event/the-decision-project-presents-kicks-and-hearts-campaign-an-ugly-sweater-game-night/e260917
Questions or want more information? Contact tlove@donatelifenc.org or visit TheDecisionProject.org
Come ready for some fun!
Sponsor:
The Decision Project - Donate Life NC and The Park Church
Contact Information:
Tanise Love - tlove@donatelifenc.org