Thursday, March 13, 2014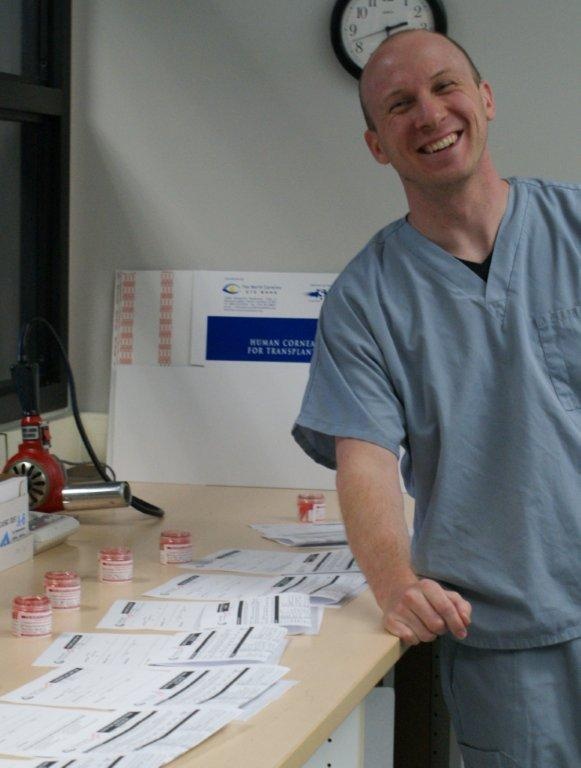 I am a constant optimist.
Life is full of unexpected tragedies, and can seem unfair and cruel. However I have learned that taking a step back to re-evaluate a situation powerfully shifts one's perspective, and can lighten life's stresses and burdens.
This is why I am passionate about donation. It is a way to find beauty and peace during one of the most painful times we will all experience: the death of a loved one. Donation is the ultimate silver lining; even at our darkest hours, we can take comfort in knowing that the essence of our loved one lives on, and may have saved someone's life.
There are millions worldwide suffering from curable blindness. As Supervisor of the North Carolina Eye Bank's Clinical Lab, my typical morning starts by communicating with doctors who have scheduled patients for the following day; we discuss their patient's current health, and the ocular disease that has led to their need for a transplant. These surgeons may be down the street, across the country, or around the world.
My team arranges for safe and suitable tissue to arrive at his or her hospital the following day. "Safe and Suitable Tissue" means that the donor has passed thorough medical records screenings, a complete microscopic evaluation of cellular structures, and blood tests for infectious diseases. If tissue does not pass our thorough review for safety, we have teams of researchers at the top universities in the country who ensure this precious gift is used to discover tomorrow's cures for ocular diseases.
Throughout the day, my team is faced with a very time sensitive challenge of working with these beautiful gifts to ensure they reach the hands of those with the ability to cure blindness through modern medicine.
The donor families we work with are incredible and selfless in their actions. It is testament to the persistence of human will to move forward in the face of adversity. I am blessed to be able to witness such generous and life-changing acts every day, and I am in awe of our donors and their families: the heroes that facilitate changing a total stranger's life for the better.