Wednesday, April 20, 2022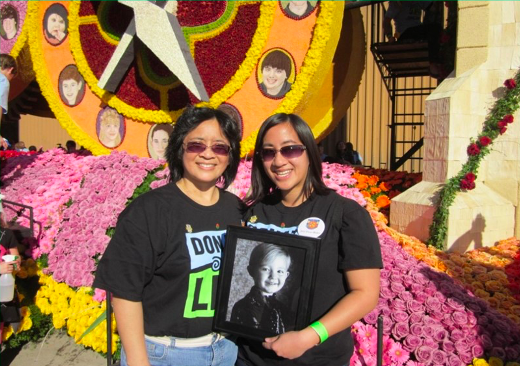 In honor of National Donate Life Month, we're featuring a unique two-part interview about pediatric liver transplantation, from the perspective of a mom and the child (now adult) who went through it. We'd like to introduce you to Victoria, DMV Ambassador and recipient mom, and her daughter Kara, a pediatric liver recipient. 
What's your name, where are you in NC and how long have you been in the state?
My name is Victoria Thio.  I live in Cary, NC.  I moved to NC 39 years ago starting out in Charlotte and then moving to the Triangle area in 1989.
When and how did you learn Kara would need a transplant? 
When my daughter Kara was born, she had to stay 2 weeks longer than expected in the hospital because she had severe jaundice.  Blood tests showed that there was something wrong with her liver.  After getting ultrasounds, biopsies, and other scans, she had exploratory surgery when she was 11 weeks old to diagnose the problem.  The doctors found that Kara had biliary atresia.  The surgeon immediately tried to counteract the problem by rerouting her bile flow, but a month later, it was determined that the procedure did not resolve it. The doctor told my husband Herman and me that we can either do nothing and let nature take its course, or we could try getting her a liver transplant. Unfortunately, the latter option had a time constraint; Kara would need a new liver before she turned 1 year old or she would die.  My heart dropped with that news. When I looked at Kara, there was no way that we could do nothing; we had to try. We were going to do everything in our power for her to have a chance to live.
When did she actually get placed on the transplant waiting list?
At that time, pediatric liver transplants were still exploratory. There was one local hospital doing pediatric liver transplants and they had a minimum weight requirement of 15 pounds.  Kara at 3 months old weighed 8 pounds and wasn't gaining much weight even while on high nutrition formula.  
Since it was unlikely that Kara would become eligible for a transplant at the local hospital, we looked elsewhere for a transplant center and chose the California Pacific Medical Center (CPMC) in San Francisco.  When we went to CPMC in May 1992 for Kara's evaluation, we were told that she was too sick and needed to be admitted to the hospital right away.  Her liver was failing. 
Do you feel like you had a support system during this time?
We were very fortunate to have a strong support system:  family, godparents, friends, neighbors and doctors, especially Kara's pediatrician.
How would you say your life was different before Kara had to go on the transplant waiting list?
We thought we were blessed to have a son and a daughter.  Even after the severe jaundice, then urinary tract infection, then surgery to mitigate the biliary atresia, we still thought things would be fine.  It was hard to conceive that Kara's life would be threatened.  We tried to keep life as normal as possible for her while working through her medical issues.
What helped you out during your difficult moments of your family's transplant journey?
The guidance and care from Kara's pediatrician, Dr. Beth, helped me the most in dealing with everything that we went through in identifying what was wrong, interpreting symptoms, and enabling us to understand options and next steps.  She helped keep me calm, sane, and optimistic both before the transplant and afterwards when Kara had several complications.
Do you remember the day you learned Kara would receive a transplant? What was "the call" like? 
When we received the call on June 20th that Kara will be receiving a liver, my emotions were overwhelming.  I was ecstatic that Kara would get a chance to live, scared because I didn't know what would happen next, and sad and guilty because someone else lost their child.  Her transplant took 15 hours.  She was 8 months old and weighed 11 pounds, with most of it being water weight from her distended stomach.  
How has your life changed since Kara received a transplant?
Shortly after Kara's transplant, because she had several complications, we were not sure what her quality of life would be.  We've learned to value what we have because things could always be worse.  Kara's lifetime of medical maintenance is her norm.  I am happy to say that Kara is now 30 years post-transplant.  She is healthy and I am proud of the woman she is.
What would you like people to know about what it's like for an individual or a family to go through an event like this?
While searching for a transplant center and getting on a waiting list, parts of Kara's body started to be impacted because her liver was failing.  We were fortunate that medical science helped to identify the appropriate medications to counteract the symptoms.  Except for her yellow skin color and being small, Kara looked like a regular baby from the outside.  It was heartwarming to see her smile and laugh but we were scared that she wouldn't get a liver transplant in time.  It was like she had a time bomb inside her that could go off at any minute.  I didn't want Kara to become a statistic; one of the 20 people who die each day waiting for a lifesaving transplant.  I don't want anyone to go through needing a transplant.  But that can't be controlled.  Organs can't be made, and they can't be bought.  They can only be given.  I hope people choose to donate their organs when they're no longer needed and share the gift of life.
I would like all donors and their families to know that their generous and courageous donation is deeply appreciated, especially Evan and his parents Pat and Greg. No words can convey the gratitude and appreciation we feel.  
**********
What's your name, where are you in NC and how long have you been in the state?
My name is Kara. I was born in NC and have lived in the Triangle area ever since. 
When and how did you learn you would need a transplant? Do you remember being sick?
I received my liver transplant when I was 8 months old, and am incredibly lucky that I don't remember the worst of it firsthand. Some of my earliest memories involve doctors, hospitals, and medical procedures, but that was normal to me. I remember finding it very strange when my elementary school classmates told me they didn't have to go to the doctors for check-ups like I did though. 
I don't remember a specific time when I learned about my transplant, it was just something I was always aware of. Though, it wasn't until I was a teenager that I understood the impact of what it meant.    
Do you feel like you had a support system after your transplant?  
Absolutely. I would not be here today if my family – especially my mom and dad – didn't support, advocate, and care for me not only through my transplant, but also with all the complications that happened. And of course, for the rest of my life. 
How has your life changed since you received a transplant?
My transplant enabled me to have a chance at life. Having it at such a young age, I didn't get a chance to experience anything beforehand. Aside from the doctor visits, blood draws, and medications, I think I grew up with a relatively typical childhood. I was raised to be a little more mindful of handwashing though, since it's easier for me to catch things and harder for my body to get rid of it (like many patients who are on immunosuppressant medications). And because complications caused my spleen to enlarge, I was not allowed to ride a tricycle/bicycle until I was a little older due to risk of falling (I was also a clumsy child). 
What do you wish your donor could know about you? His family?
I'm lucky that we were able to meet my donor family a couple times in-person, and was honored they were able to attend my wedding a couple years ago. They are such wonderful, generous people. I hope they can see what an impact they've made and how much good has resulted from their decision to share their son's life. 
What would you like people to know about what it's like for an individual or a family to go through something like this?
It is incredibly difficult, stressful, and uncertain. To hear my mom recount all the ups, downs, and stress they experienced during the first 4 years of my life, it's astounding how much my family endured – how much so many people going through similar situations endure. Receiving a transplant is such a lifesaving gift, and wouldn't happen if not for the generosity of others who have decided to share the gift of life with us.