Wednesday, January 22, 2014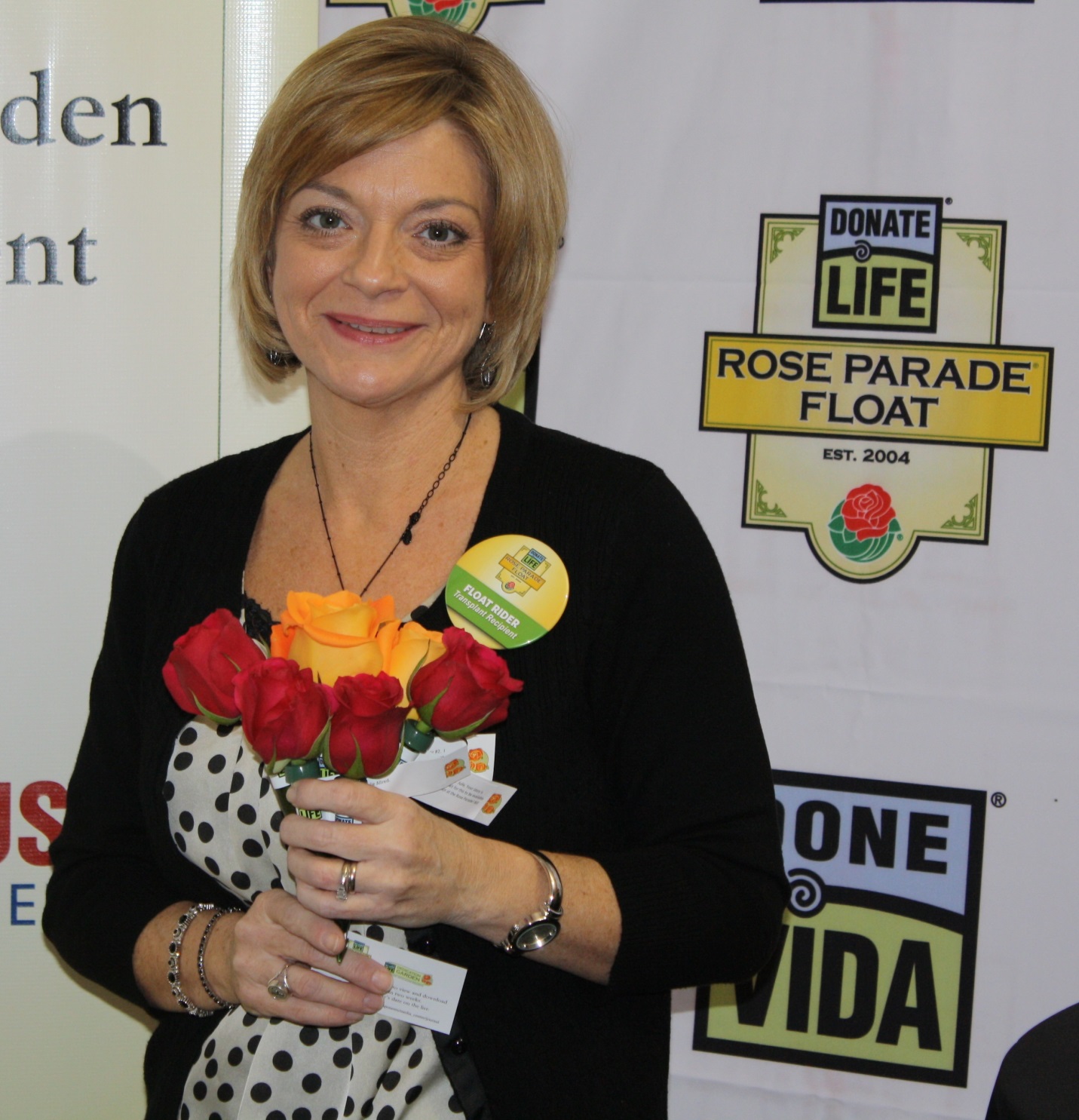 I had always dreamed of a cure for Type 1 diabetes occurring in my lifetime, of not being afraid to speak in public, of making a difference in someone else's life, of traveling to other states, of meeting people from different parts of the US and learning about their lives, of being proud of what I have done and feeling successful, and of just simply feeling good when I wake up every day. All of these things were on my "Bucket List." However, I could not have ever imagined how all of these things would work together and lead me to check off some "Bucket List" items that I didn't even know were there!
On December 29, 2013, at 7:45am, my husband, David, and I boarded a plane for a five hour flight to Los Angeles, California for me to be a rider on the Donate Life Rose Parade Float "Light Up the World" in the 125th Tournament of Roses Parade in our final destination of Pasadena.
I received two islet cell transplants as a participant in a Phase 3 human clinical trial to treat/cure Type 1 diabetes. Islet cells are the cells in your pancreas that produce insulin and to receive this type of transplant requires a pancreas from a deceased donor. By the way, this NC girl would be sitting on a beach somewhere if I had just $1.00 for every time someone asked me "What is an islet cell?" or after starting my explanation they stopped me and asked "Where are you from?" They said I had an accent…imagine that!!  Of course, I was extremely excited to have been sponsored to ride on this amazing float by my transplant center, Emory Transplant Center
When we arrived at the hotel in beautiful Pasadena, we received an immediate warm welcome from Donate Life employees, volunteers and other float participants. I received a special package that included souvenir books for the float and the parade as well as numerous pins for me to wear identifying me as a float rider, transplant recipient and such.
I had the privilege of meeting, in person, several of the other riders who I had been communicating with via email, phone, and social media. It was like we had known each other forever and at this point the tears began to flow! You know others had told me how amazing it would be, but I was not prepared for all the emotions that were an enormous part of this five day life-changing experience.
After a few minutes to catch our breath and settle into our room, we were off to the Float Rider/Walker dinner at the convention center.  There were 30 float riders (all transplant recipient) and 12 walkers (all living donors) along with family and friends gathered for dinner, fellowship, and stories. We all signed a 125th Rose Parade poster that would be sent to us to commemorate the event.  I have said before, "Everyone has a story and everyone's story is amazing." WOW, was that the case! Smiles, hugs and tears flowed as we listened to each story and got to know more about each other.
We learned more about the upcoming events and then we were whisked away to the float barn where we would place our personal roses, dedicated by us and for us, on the 2014 Donate Life Rose Parade Float "Light Up the World"!! For many of us this would be the first time we would see the float live! Emotions were already running high and when we arrived at the float barn, the emotions took over. What an AMAZING sight and the thoughts that go along with why and how this float is created is almost too much to comprehend. We each received our roses and placed them one by one on the most amazing float I have ever seen. Then, we just stood… feeling blessed, thankful, grateful, undeserving, honored, loved and special! Always on our minds…those who in their death gave us the greatest gift:  life!!
After this amazing day, can things get any better?? The answer is yes! Wait until you see what day 2 holds!!