Monday, October 17, 2011
Winston-Salem, NC,  October 17, 2011
The North Carolina Eye Bank (NCEB) proudly announces a global partnership with one of the leading eye banks in the country, SightLife, based in Seattle, Washington. NCEB will become a SightLife Global Leadership Partner with a sponsorship gift of $350,000 for the development of an eye bank in India through SightLife's Global Program.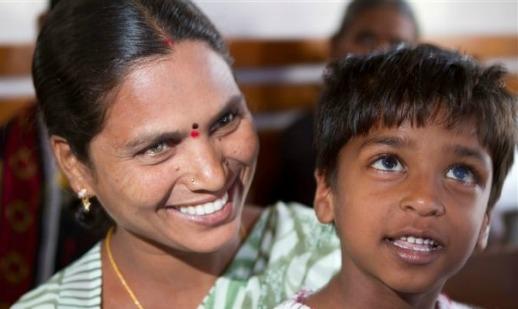 2011 marks the 60th Anniversary of The North Carolina Eye Bank. With longstanding leadership in the eye banking community and 60 years experience in providing corneas for the gift of sight and aiding in research around the world, NCEB is honored to partner with SightLife in their global program to eliminate curable corneal blindness. 10 million people in the world suffer today from curable corneal blindness. Treatments to prevent and cure blindness are among the least expensive and most successful of all health interventions. Unfortunately, fewer than 30,000 transplants are performed annually in developing countries.
Photo: Before surgery photo of Karthik, an 8-year-old corneal transplant recipient who lives near Hyderabad, India. A genetic condition caused blindness in both his eyes. His transplant, at a clinic funded by Seattle-based SightLife, allowed him to see his mother's face for the first time in years.
The North Carolina Eye Bank will be the first eye bank in the U.S. to join SightLife in their mission to end corneal blindness by becoming a SightLife Global Leadership Partner. "We are proud to collaborate with SightLife in this endeavor and encourage the eye banking community to join us in eliminating blindness worldwide," said Dean Vavra, Executive Director of The North Carolina Eye Bank.
The mission of the North Carolina Eye Bank is to recover, process and distribute ocular tissue for the restoration of sight through corneal transplantation and related medical therapy and research.
We welcome our global partnership with SightLife and remain committed to help all individuals suffering from corneal blindness.
For more information, contact Bob Russ at bruss@nceyebank.org.