Friday, September 15, 2017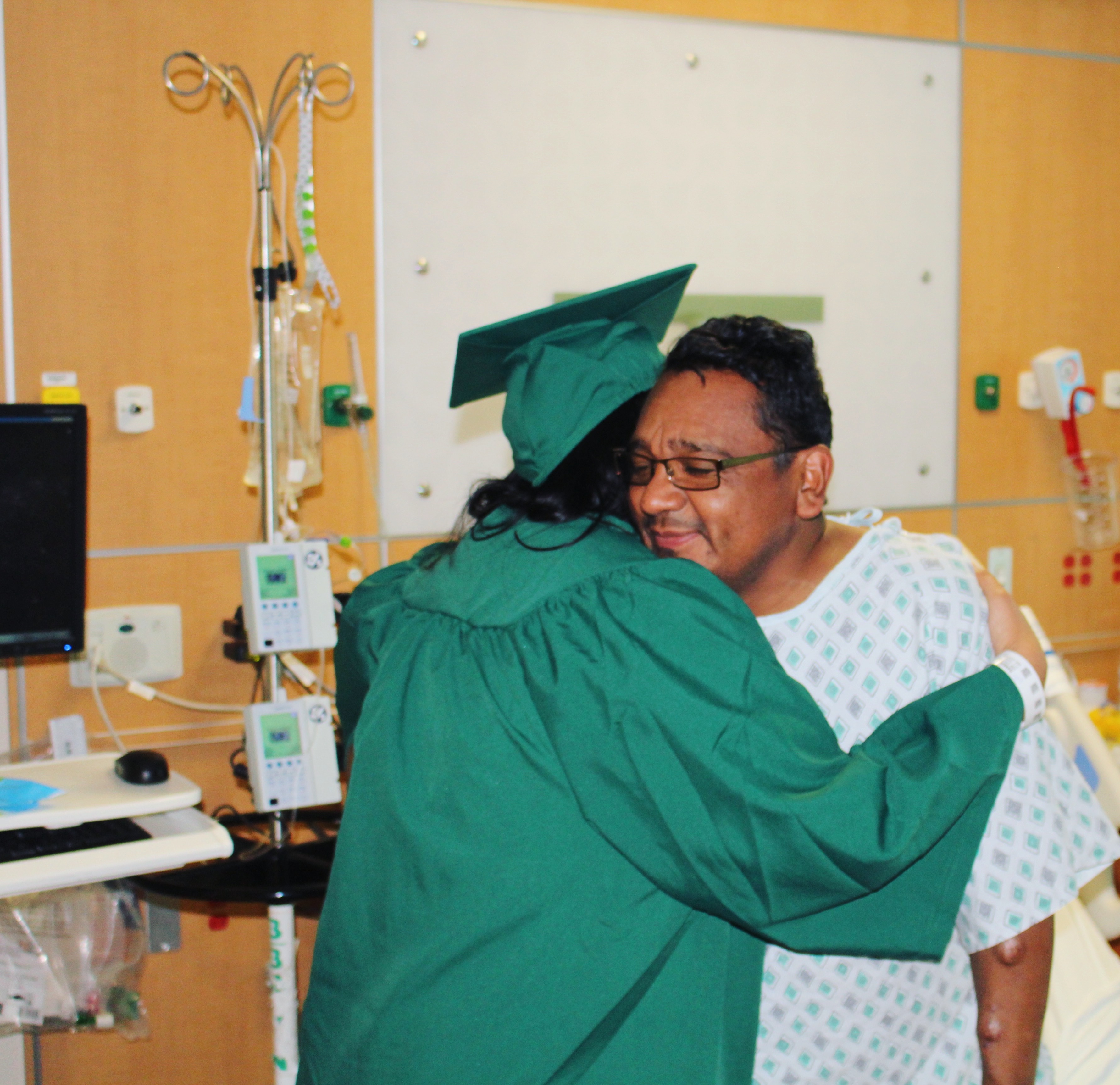 A Kidney for Dad 
(as told by Katherine Ramirez)
When I was 15 my dad was diagnosed with chronic renal failure and immediately subjected to dialysis three times a week. At the time, my mom was pregnant with my second little sister, Ariana. In the years leading up to my dad receiving a new kidney, Ariana grew, started kindergarten, and learned to read. We even welcomed another baby into the family during this time when my littlest sister, Kristen, was born in 2014.
With more than half a decade on dialysis my dad's health had deteriorated significantly but in mid-2016 we got news that he was the second candidate on the kidney transplant waiting list. Our spirits were high and before the year ended on three separate occasions we were called by the hospital because there was a high chance my dad could receive a kidney. It was exciting, but at the end of the day someone else needed those kidneys more than my dad did at the time.
In the past, my dad had told me he wouldn't accept a kidney from me because he loved me too much, so I did what 21-year-olds do all the time: I went behind my dad's back.  I searched through INOVA Fairfax Hospital's website and contacted someone about becoming a living donor. The donation process was incredibly different than I thought it would be but in the best way possible. I spent weeks of testing, physical and psychological (nothing that was too painful but enough for me to get over my fear of needles). Most importantly, I received education from a team that made it feel like they were there just for me. I had a nutritionist, physician, surgeon, two social workers, and an amazing living donor coordinator. I knew everything that would happen to me and my dad before and during the operation, in recovery, and lastly what both our lives would be like with one healthy kidney.  Once I was approved as a living donor candidate I got to tell my dad what I had been up to. He was in disbelief but as a family, we were all ready and happy to take the step.
On May 17, 2017, I gave my dad my left kidney. I took my last final exam for college (Go, George Mason University!)  the night before and decided to skip my graduation that was supposed to be on May 19th because I just couldn't wait to see my dad healthy again. The surgery went great and I still got to "walk across the stage" in my cap and gown with my family surrounding me but instead it was at INOVA. I now live in North Carolina with my husband who is stationed at Fort Bragg, last month my family came to visit us. We walked the Cape Fear River Trail and my dad was even was strong enough to carry Kristen on his shoulders. 
There are almost 23, 000 waiting list candidates of Hispanic descent. National Hispanic Heritage Month is the perfect time to learn more about donation!