Wednesday, September 21, 2016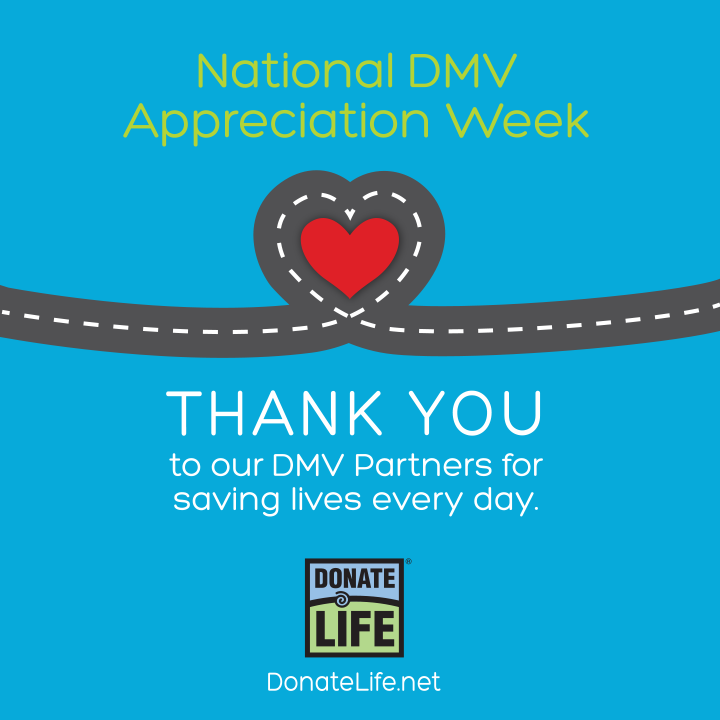 Donate Life NC thanks our partners at the North Carolina Department of Motor Vehicles for helping to save lives every day
Donate Life NC and Donate Life America are taking this week, September 19-23, 2016, to do something long overdue. The Donate Life Community will spend this week saying thank you to Departments of Motor Vehicles (DMVs), administrators and licensing partners across the country for their partnership and commitment to asking each customer to register as an organ, eye and tissue donor. In North Carolina, the DMV has registered nearly 98% of donors across the state.
"Our DMV partners are the people on the front lines of service who have helped register more than 130 million donors", says David Fleming, President & CEO of Donate Life America. "Even with advances in technology, the DMV partnership remains the primary source of donor registrations. We could not have reached this milestone of registered donors and lives saved without the partnership and support of DMVs and driver's licensing partners."
National DMV Appreciation Week will be a one-week celebration held September 19-23, 2016. During the week the Donate Life Community will be showing its appreciation and saying thank you to staff and leadership of DMVs and driver's licensing partners across the country through local events and national outreach. Joining in this celebration is the American Association of Motor Vehicle Administrators (AAMVA), a nonprofit organization developing model programs in motor vehicle administration, law enforcement, and highway safety. Founded in 1933, AAMVA represents the state and provincial officials in the United States and Canada who administer and enforce motor vehicle laws.
"We are proud to stand beside Donate Life America to celebrate the lifesaving work our members do every day," says Anne Ferro, President & CEO of AAMVA.
To register your decision to be an organ, eye and tissue donor, please visit your local DMV or https://www.donatelifenc.org/register.