Monday, August 23, 2021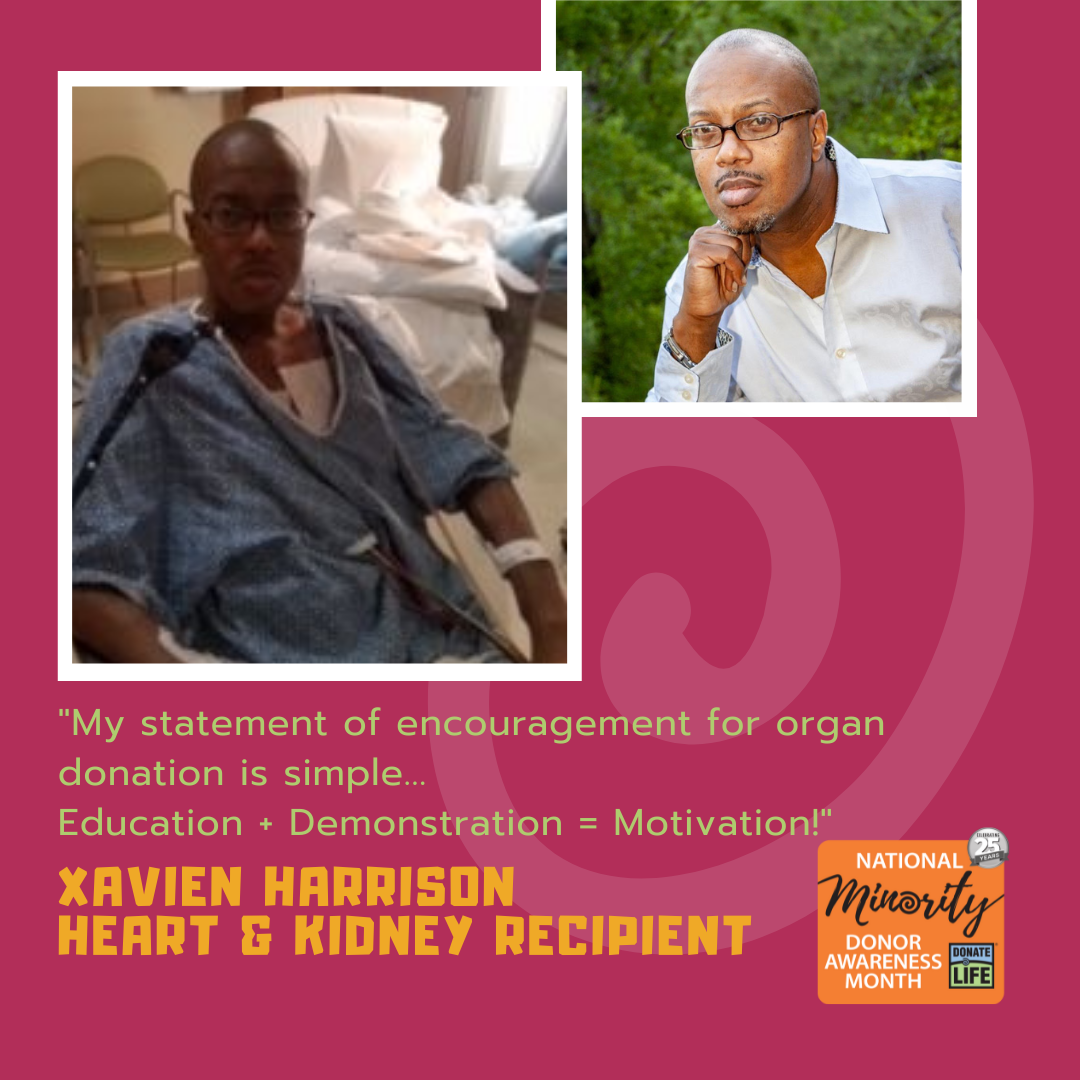 Part-time youth pastor, Xavien I. Harrison, is a heart and kidney recipient. The former educator vividly recalls many of the family and holiday celebrations that he missed due to his 130-day hospital stay at UNC Medical Center in 2016. Some of the celebrations he missed out on between July and September included his family reunion, sister-in-law's wedding, his oldest and youngest sons' birthdays, and his very own birthday. He said, "Right about the time he was scheming, plotting, and making plans for my wife's birthday visit on October 24th (day 130), suddenly the team of doctors came to make what appeared to be their routine mid-morning rounds. As they exchanged greetings, my cardiologists proceeded to ask me the million-dollar question, 'What kind of day do you think this is?'"  I replied, "It's a good day to receive ORGANS!!!!!!!!!"  With that, his doctor responded, "You are RIGHT!" That's when it hit him all at once that the time had finally come, and God had kept His promise to him! 
Soon after sharing the good news with all his family and friends, the hospital staff began to scramble with transplant preparations. The surgeries took two days in July. While his recovery went very well for the first 48 hours, Xavien suffered a major setback for the next few days. He felt bad because he had lost his ability to walk on his own. He thought, "l have to gather myself and rely on my faith in God to bring me through this very low place." A few days later, things began to miraculously turn in his favor. After a few weeks of recovery and rehab, he was allowed to finally return home two days before Thanksgiving!
Returning to a "new normal", Xavien referred to that time of his life as his "Journey of Faith"!  He now resolves to personally share his story of hope and resilience with as many people and in as many settings as he can. He also plans to spend the rest of his life ensuring that people, especially minorities, know the facts about organ donation as well as the importance of early detection. As a heart and kidney recipient, Xavien wholeheartedly believes that encouragement for organ donation is simple, "Education + Demonstration = Motivation!"