Friday, August 27, 2021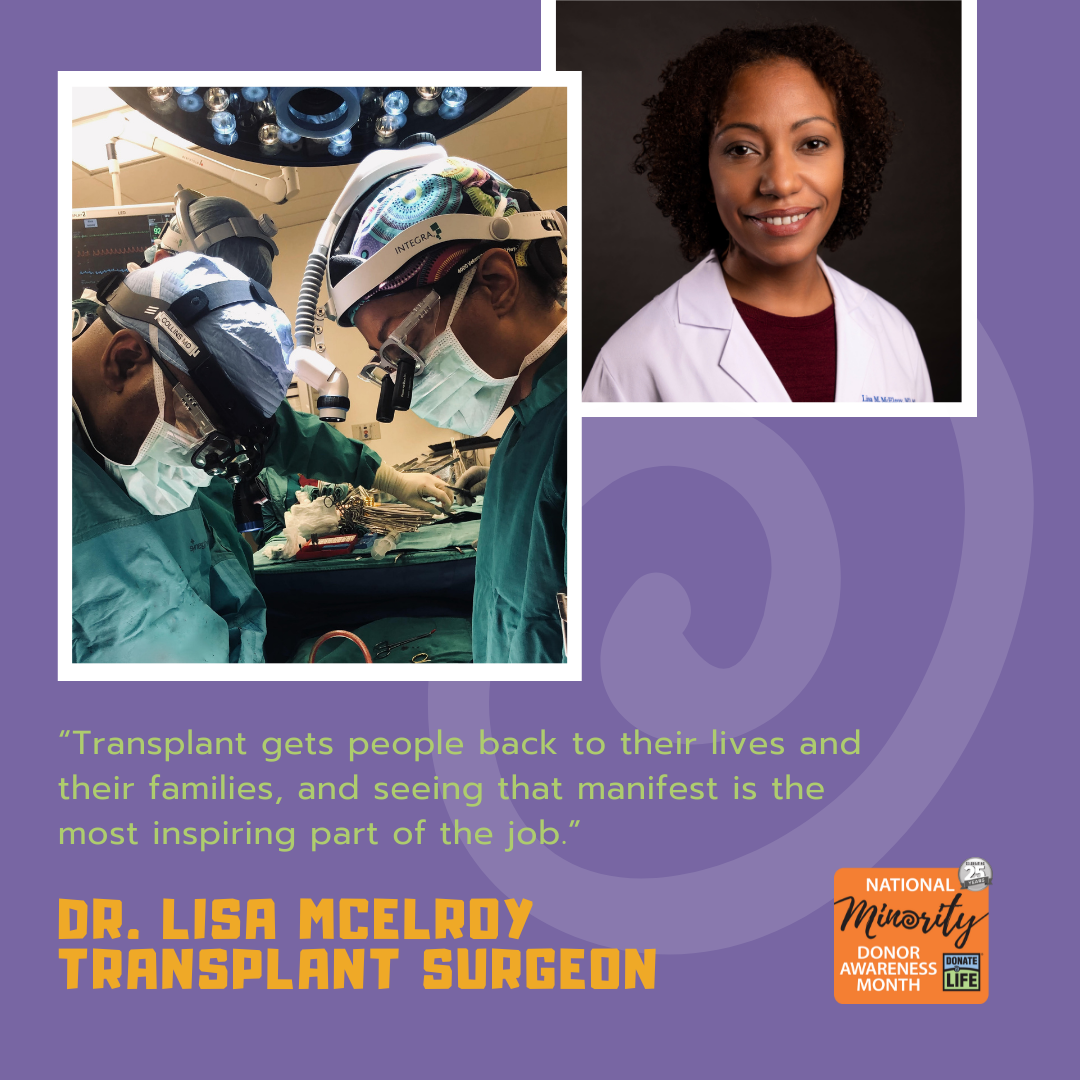 My name is Lisa McElroy. I was born and raised in Chicago, and I moved to North Carolina in August 2019 from Ann Arbor, Michigan where I did my surgical fellowship in abdominal transplantation. I am an Assistant Professor of Surgery at Duke University.
Being a transplant surgeon is truly a privilege, and I was led to it by following my passions through medical school and surgical residency. I love being part of a dynamic multidisciplinary team and caring for patients with complex medical and surgical problems. As a surgeon, I enjoy the complex and technically demanding operations. Perhaps the best part of the job is being an advocate for a diverse group of patients, each with their own unique motivations for pursuing transplant and barriers to success. Being a faculty at Duke also allows me the opportunity to teach and train the next generation of transplant clinicians and advance patient care through research. The mix of clinical care, teaching and research is extremely rewarding.
Many patient experiences have stayed with me, influenced my clinical practice, and reinforced my dedication to transplantation. I took care of a patient a few years ago who is to this day the sickest patient I've ever seen. For several days before his transplant, I was sure he was going to die. The surgery was harrowing but a few months later he was helping to make Christmas dinner for his wife and 3 kids. My most inspiring moments lately are the transplant recipients that keep in touch with me after their operation. It is wonderful to get messages from patients and pictures of them at weddings, on vacation or back on their kayaks, tractors, and motorcycles. Transplant gets people back to their lives and their families, and seeing that manifest is the most inspiring part of the job.
It's hard to convey the destruction that organ failure causes. It's not just medical illness, it's loss of the ability to work, care for your family and participate in life. Every organ donation has the potential to restore wellness to not just a patient with organ disease, but their parents, children, siblings, spouse. It is truly the greatest gift and one of the most amazing examples of the ability of a single person to change multiple lives with a single act. Patients frequently talk about the gratitude they have for their organ donors and their families. They go to great lengths to honor the gift of donation, and our transplant team goes to great lengths to support them in doing so.
My journey has been a prolonged effort to learn and develop the skill necessary to deliver the best care to my patients, teach trainees, and advance care through research. Our education and training path is long, but relatively easy compared with what our patients go through to gain access to the waitlist and recover from transplantation. They are the true heroes in this and the ones who deserve recognition.