Friday, August 13, 2021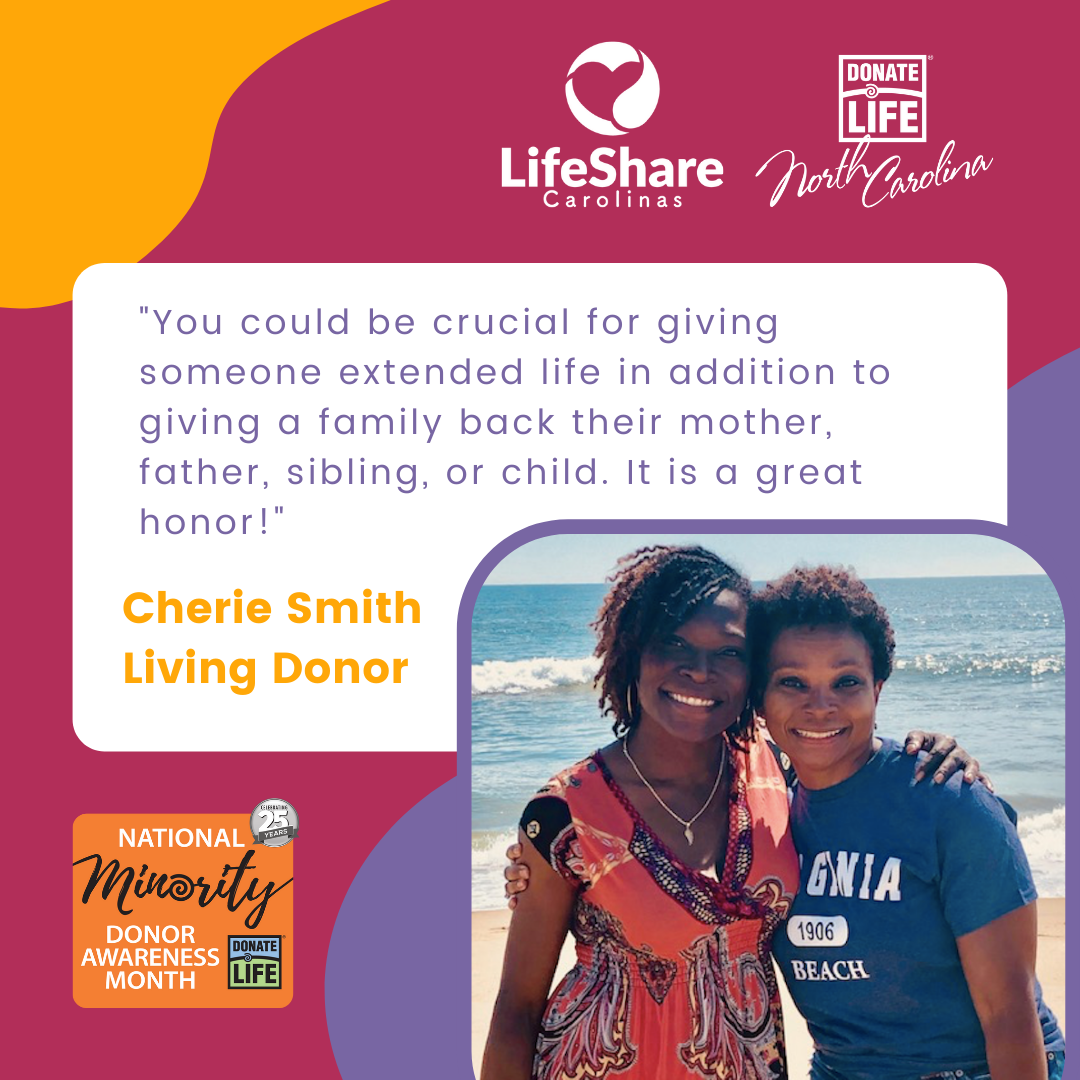 There's no doubt that Cherie L. Smith, PhD, has made numerous contributions in the field of nursing as the Assistant Vice President of Nursing at Iredell Health System in Statesville, NC, but perhaps her greatest is the contribution she made as a kidney donor to her daughter, LaShanda Villines.
Much of her time in nursing has been associated with inpatient acute care settings. While Cherie feels very fortunate to have connected with patients who have already undergone a transplant, most importantly she's had a chance to connect with those who had no knowledge of transplant or even that transplant was an option. Cherie said, "I find this to be the most valuable part of my work as I can connect with patients ranging from early to late diagnosis."
Cherie was inspired to become a living donor after her daughter who has Lupus Nephritis had to start dialysis treatments due to kidney failure. The day of surgery, she wasn't worried or nervous about it until she was being rolled through the doors of the operating room. She felt that the process was seamless and that she was well taken care of. Although Cherie's entire family was there, she did not even think about them, how her loved ones not only had to worry about one person in surgery, but they also had two family members to worry about. After surgery, she had the opportunity to visit her daughter while she was recovering. Cherie recalled being, "thrilled to see urine in the catheter bags!" While mother and daughter recovered together well, she remembered that LaShanda recovered much faster than she did due to periods of extreme fatigue that gradually decreased over time.
In hopes of inspiring someone to register as an organ, eye and tissue donor, Cherie shared, "They should know that the donor can live a long and healthy life with just one kidney and can give up a portion of their liver. Be inspired to help someone who has been struggling to stay alive and sometimes through no fault of their own. You could be crucial for giving someone extended life in addition to giving a family back their mother, father, sibling, or child. It is a great honor!"
In addition, Cherie believes that people need to be persistent about becoming a living donor. People may run into numerous obstacles however if they have someone who is working with them, someone they trust, then they can overcome most obstacles. "One thing that really helped my entire family understand the living donor process and to feel somewhat comfortable with the prospect of donation and my daughter becoming a recipient was the opportunity to speak with donors and recipients prior to transplant. This helped to allay fears for the entire family," Cherie said.
In reflecting back upon her experience, Cherie stated, "It's hard to imagine that you have the ability to prolong someone's life or assist them in making their life better. Although patients in need of kidneys may be able to live on dialysis for many years, the quality of life is significantly lower because of the need for treatments and the restricted diet. Allowing a recipient to be able to live a life with more freedom is invaluable. I think about all the things that happened in my daughter's life after she received my kidney and how she got her life 'back'. She completed a dual master's degree, started in the accounting field, got engaged and married. If I had to do it again, I definitely would!" Cherie's transplant journey also led her to write her dissertation on African Americans Making a Decision to Become a Living Kidney Donor. She said, "My PhD journey was a direct result of my research of the transplant process prior to donation." Today, mother and daughter are both doing well and living life to the fullest!
#NMDAM
#DonateLife