Tuesday, December 8, 2020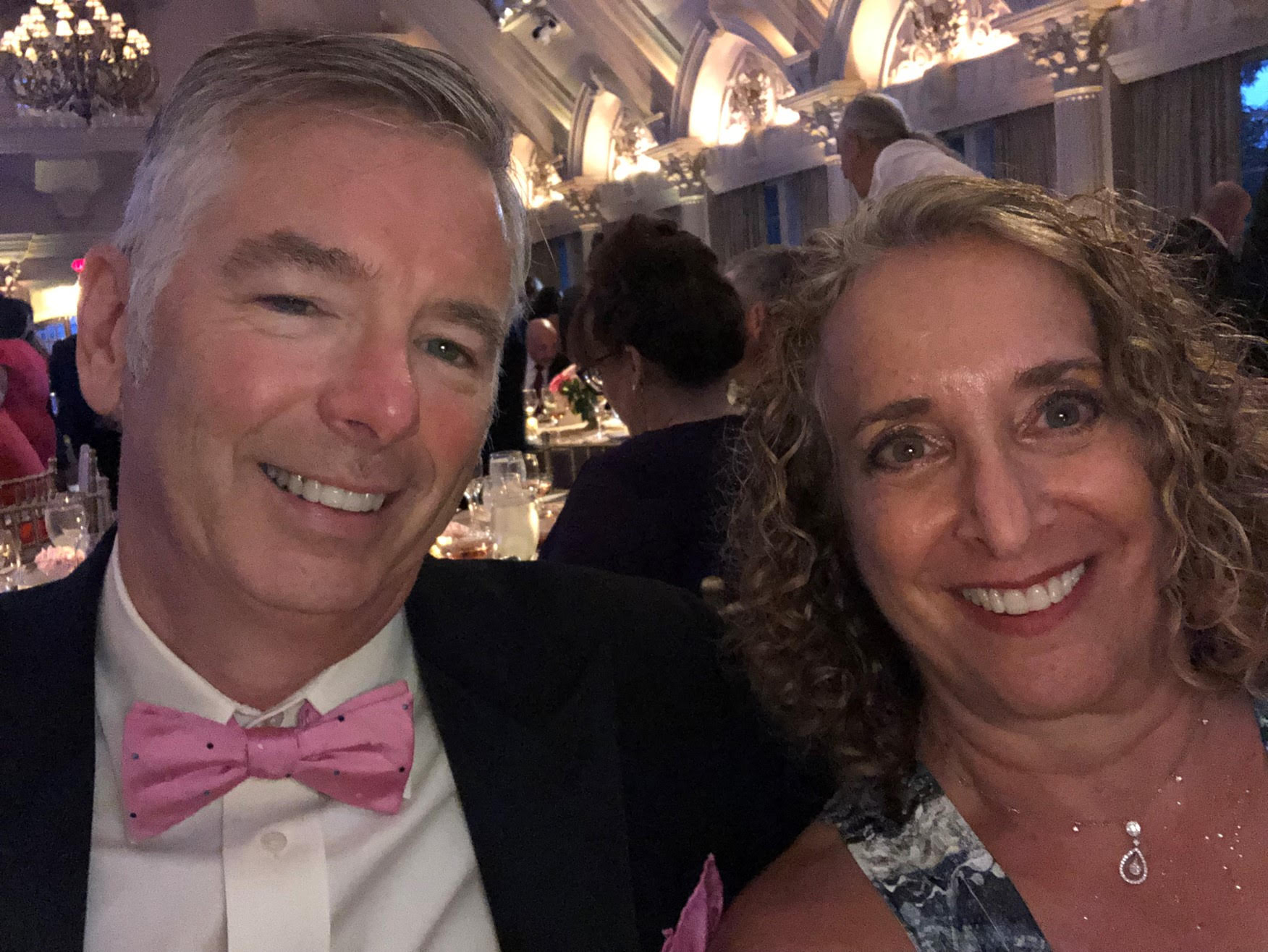 Have you ever wondered what inspires someone to become a living donor? This is the story about how one couple, Cheryl and Frank, both became non-directed donors*.
Many years ago, Cheryl's brother, Howard Cohen, received a much-needed heart transplant at Gift of Life in Philadelphia and enjoyed another 8 years with his family. It was then that Cheryl became interested in organ donation and became active in donation advocacy. In 2013, Cheryl joined the NJ Organ and Tissue Sharing Network Foundation as a board trustee and for the next 6 years, Cheryl learned a lot about organ donation and the invaluable impact it has on the lives of so many people.
In late 2017, Cheryl began researching the concept of non-directed kidney donation. As she learned more, she became excited to become an organ donor. Her husband Frank, was very supportive of the concept.
Cheryl's next step was to have a chat with Dr. Mulgunkar at the Living Donor Institute at Barnabas Health in Livingston, NJ. He thoroughly explained the process. When they were almost finished discussing this wonderful concept, the Doctor turned to Frank to ask him what he thought of Cheryl's surgery. Frank's response – "How would you like two?". Dr. Mulgunkar and Cheryl nearly fell off their chairs. What an amazing procedure to go through together!
The process took about a year and a half of testing prior to their surgeries. The philosophy, as with every living donation, was to ensure the safety of each donor. With certain markers not perfect for them individually, Cheryl and Frank were tested throughout that time period until all markers were within the safety range for living donation.
Both Cheryl and Frank's surgeries took place in 2019. Cheryl had her surgery in April and Frank had his July. Although they wanted to do them together, the Institute had them do one at a time, just in case one of them needed assistance through the recovery process. Both surgeries were a success!
They both went into surgery early one morning and were home by the next day for dinner. They each were out of bed the day of surgery. Cheryl's kidney stayed in NJ and Frank's was flown to Illinois. They describe the experience as a, "simply amazing and easy procedure". And, they believe they were the first non-directed kidney donations performed by a couple.
Both recoveries were calm and pretty much painless. The team at the Living Institute suggested a lot of walking upon returning home. They both complied with that, walking was the only exercise we could do for the first 4 weeks. However, by first day of Week 5, Frank was on his bicycle while Cheryl waited until after 6 weeks. They recall being in little to no pain. Cheryl did take pain medications for a few days, because as she says, "she is afraid of pain." Frank only took pain medication for one day but neither needed pain medication again.
As for long term effects, "Within 2 months, we were 100% active and pretty much living our life as we had pre-surgery," they share. Cheryl did indicate that the decision to donate a kidney and go through with it, was easier than her decision to let her hair go natural!
For Cheryl and Frank, there have been very few post-surgery limitations, "We can no longer take anything with NSAID in it, so limit our pain medications to Tylenol (only when needed). We cannot play contact sports, but did not prior to surgery, so no loss there."
"If either one of us could do this again, we would in a heartbeat. It is the most giving experience that we could have dreamed of doing. With the knowledge that should anything happen to either of our remaining kidneys, our names go to the top of the list for kidney donation. That made the decision even easier. We never had doubts, never had second thoughts, and absolutely would recommend anyone who is healthy to undertake this beautiful contribution to life."
*Non-directed donor: A living person who donates an organ, usually a kidney, and does not name or have an intended recipient. The organ is donated as a gift with no expectations of return and no connections between the donor and transplant recipient.