Monday, November 25, 2013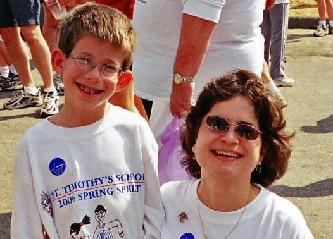 At the age of nine years old, Marshall Taylor and his family received surprising news: Marshall was diagnosed with end-stage renal disease. One of his biggest questions: would he still be able to play hockey? Marshall started playing his favorite sport at age 5 and did not want anything to interfere with it. After receiving a clearance from his doctors, Marshall continued to be active on the ice, despite his fatigue. Compared to his teammates, Marshall seemed to "run out of steam" due to his failing kidneys. But, he continued to work hard and tried his best to keep up.
Five years after his initial diagnosis, Marshall received wonderful news: he was going to receive a kidney transplant! His aunt, Karen, underwent the necessary testing to be a living donor and was deemed a match for Marshall.  On September 2, 2010, the surgeries took place with great success at the University of Michigan in Ann Arbor. Karen returned home soon after the surgery, and Marshall and his mother stayed for a few weeks to ensure he was doing well enough to return home to Raleigh. Then, just five weeks later, Marshall was back on the ice with his hockey team.
These days, Marshall is a student at Cardinal Gibbons High School. He attends hockey and drama camps in the summer. He plays goalie for the Avalanche U18 team in the Polar Ice League. Since receiving his new kidney, Marshall has experienced some ups and downs in his health. Fortunately, he has received excellent care from the Duke Health medical team.
Additionally, over the last five years, Marshall has participated in several studies at the UNC Kidney Center in Chapel Hill.  The hope is that these studies will benefit other children and their families who experience chronic kidney disease. One study in particular evaluates the effects chronic kidney disease may have on cognitive function in children. These tests have required Marshall to undergo painful blood chemistry tests, MRIs, kidney scans, and long hours of cognitive testing. His mom commented, "We are so proud that he is willing to do all this to help future children and their families deal with the many issues raised by kidney disease in children." 
After experiencing an unusual journey to his teenage years, Marshall is grateful for each day. He's especially appreciative to be back in his full hockey pads with more energy. As Marshall said, "Transplant patients can still live out their dreams and play the sports they love. I am glad my Aunt Karen gave me one of her kidneys. I think about her whenever I'm on the ice and in the goal."
To learn more about Marshall and his incredible journey, please visit his family's website at: http://www.mthockeyplayer.org/homepage.html