Thursday, February 15, 2018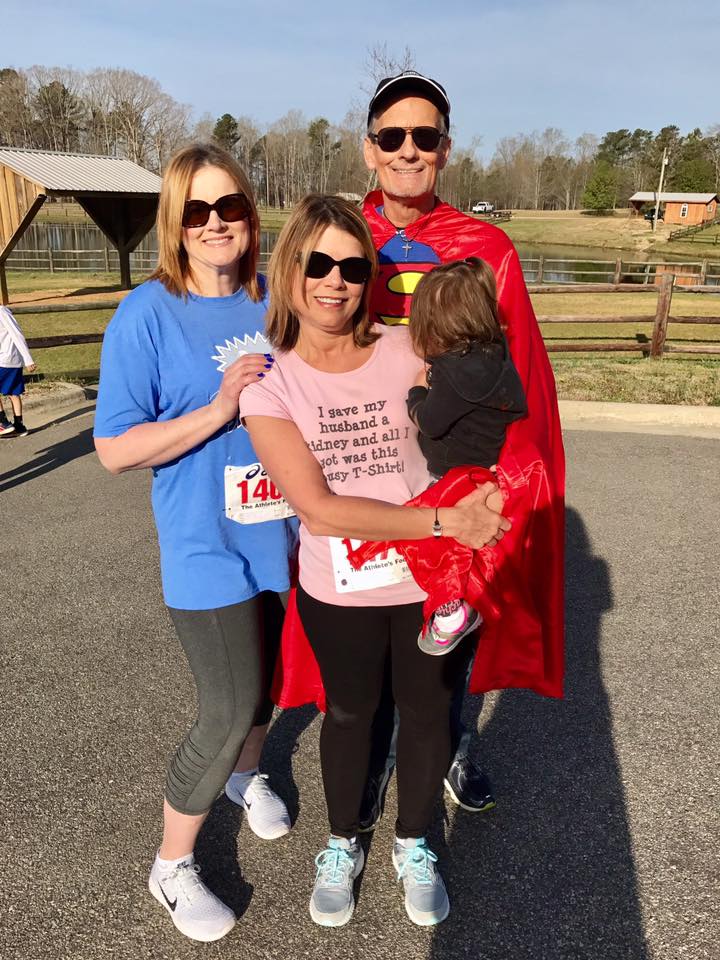 When Melissa Etheridge and her family crossed the finish line of 2017's Donate Life NC Hero Run, it was truly a heroic finish.
Melissa completed the race with her brother, Buddy Norris, a double lung transplant recipient and her sister Teresa Morton, who was a living kidney donor to her husband.    Together they participated in the event to celebrate a cause that just a few years ago, Melissa knew little about.
"I had no idea so many people needed organs," said Melissa.  That is until a few years ago Teresa's husband's health started to go downhill.  He suffered from diabetes for many years and eventually he would need a kidney transplant.  As luck would have it, Teresa would become his living donor.
Around the same time Melissa's brother became ill.  A lingering cough led to several doctor's appointments, and Buddy was eventually diagnosed with idiopathic pulmonary fibrosis... Buddy would need a double lung transplant.  He was turned down from multiple hospitals, though he kept fighting and was finally accepted in Atlanta. 
Buddy had a successful double-lung transplant and started his road to recovery.
"To me organ donation means another chance at life!  I am more grateful for my Donor than mere words could ever express. I think the importance of it in my life is obvious and I am thankful and blessed to be alive today and able to get to know my new granddaughter, Eisley Jane," says Buddy.
Buddy decided to make it his goal to participate the Donate Life NC Hero Run.
"He always wanted to do a walk and cross the finish line.  We (Teresa and Melissa) did it to support him.  In everything I've done was to support my brother and sister," says Melissa.
"It was more than I thought it would be," says Buddy.  "The thing I noticed the most was the family atmosphere I felt with total strangers because of having a life-saving Double Lung Transplant in common with some that were there."
Unfortunately Teresa's husband passed away two years post-transplant.
"Organ donation is a second chance for both the recipient and donor," says Teresa.  " I donated a kidney to my husband and in return received more years to call myself a wife.  I had decided that even if I was not a match for my husband I would donate to someone. I was passionate about being a donor once involved in the process and my motivation to help someone with the gift of life would only be satisfied through donation. 
 Buddy continues to do very well three years post-transplant.
Melissa continues to support Donate Life NC, this year as a sponsor for the Hero Run, with Etheridge Pest Control Services.  They will all return again this year to celebrate the heroes of organ donation!