Thursday, February 22, 2018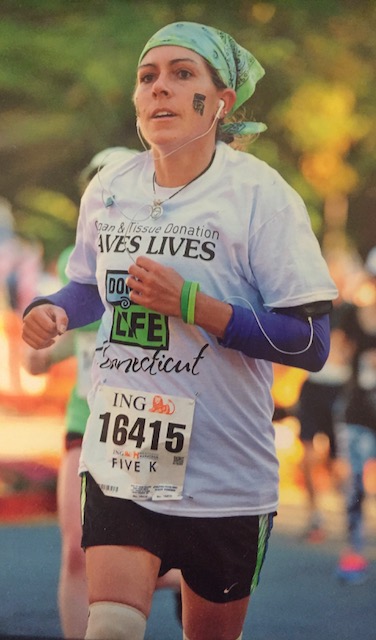 "I oddly didn't see my diagnosis as a mis-fortune, rather, I saw it as an opportunity -- an opportunity to change my life, an opportunity to regain my purpose, and an opportunity to impact the lives of others." ~Mo Gesualdi 
Mo Gesualdi's life was changed forever at just 26 years old.  She would have never expected as an athlete with an apparent clean bill of health, that one day she would awaken in a hospital bed, hooked up to life support, her family sharing the news that she had a liver transplant.
Just a few weeks prior to Mo receiving her life-saving liver transplant, her health began to rapidly decline. Flu-like symptoms quickly progressed to jaundice and a series of tests and hospital visits revealed multiple diagnosises. Doctor's discovered Mo had Factor V Leiden, a blood-clotting disorder due to a mutation in the blood's protein. The doctors at Greenville Memorial Hospital had difficulty determining the cause of Mo's cirrhosis but diagnosed her with Budd Chiari, a blockage in her hepatic veins which they believed was what lead to her acute liver failure. Mo got transferred from Greenville Memorial to up north to Yale New-Haven hospital for further testing.  During Mo's liver biopsy at Yale, her liver was accidentally nicked. Mo was bleeding internally, unaware to the medical staff, and collapsed on her way to the rest room resulting in a Code Blue and losing her pulse four times in three hours. The Yale Transplant team was able to stabilize Mo but her condition had deteriorated rapidly placing her #1 on the transplant list. Due to the extremely deteriorated condition of her liver at this time, Mo's medical team at Yale labeled her with "Cryptogenic Cirrhosis" which ultimately means the underlying cause of the scarring of the liver remains unknown.
After Mo received her life-saving liver transplant, her battle was far from over. Just 10 short days after her life-saving transplant, Mo's medical team discovered her cognitive abilities declining. She developed aspergillosis, an airborne fungus, which made its way into her bloodstream, eventually settling into her brain. Immediate brain surgery was necessary for any chance in survival. Mo's medical team operated on the infection in her occipital lobe, aware of the permanent damage it could cause including permanently terminating Mo's ability to speak, see, or survive. One brain surgery wasn't enough to remove the infection, so one week after her first brain surgery, just three weeks after her liver transplant, Mo had her second craniotomy. 
With less than a one percent chance of survival, Mo defied doctor's odds, though the brain infection left her with many side effects, including the loss of her peripheral vision to her right.  After two years of grueling recovery, overcoming all of the odds in front her time after time, Mo decided nothing was going to stop her in her new transplanted life and she was going to pursue her life-long dream.
"Inside me, in my body, was a liver that didn't belong to me and it was my duty from here on out to make my life something worth living and to make them proud," says Mo.  Mo's life-long dream….to become a Golf Pro.  Mo started playing golf at age 10, became a nationally recognized junior golfer, and earned her way to a full-scholarship to play for a top-notch D1 Women's Golf program at Furman University in Greenville, SC. 
After Mo's miraculous recovery, Mo wanted nothing more than to get back to her golf routes and become a golf professional. Mo began her career in the golf profession at Richter Park in Danbury, CT and then headed to the prestigious Tamarack Country Club in Greenwich, CT where she spent several years there working as an Assistant Golf Professional earning her LPGA Class A status.  After a few years spent back up north with her family, Mo followed the warmer weather and her heart down south, to continue her golf career at TPC Wakefield Plantation, part of the McConnell Golf network.  
"I am grateful to not only have one chance at life, but to be blessed with a second opportunity to live it and to live it right," said Mo.  "This opportunity would not have been possible without my family, my medical team, my friends, God, or my anonymous donor, who I owe each and every day to."
Mo's other passion is raising awareness about organ donation, as without it she would not be alive.  To pay it forward to her donor, Mo decided to start a fundraiser for Donate Life NC.  She is organizing a golf tournament at TPC Wakefield, the first annual Just Say Mo Donate Life NC Golf Fore Charity Outing.
"I have always wanted to be able to thank my donor and their family for the gift they have given me.  Now I can go on to help and raise money and awareness in efforts to save many more lives like my own."
We hope you join Mo and others on April 16, 2018 to help raise funds and awareness for Donate Life NC. 
To register for the event or to make a tax-deductible donation to the JUST SAY MO Donate Life Golf Fore Charity Outing go to:  https://give.classy.org/DLNCgolf