Monday, August 28, 2023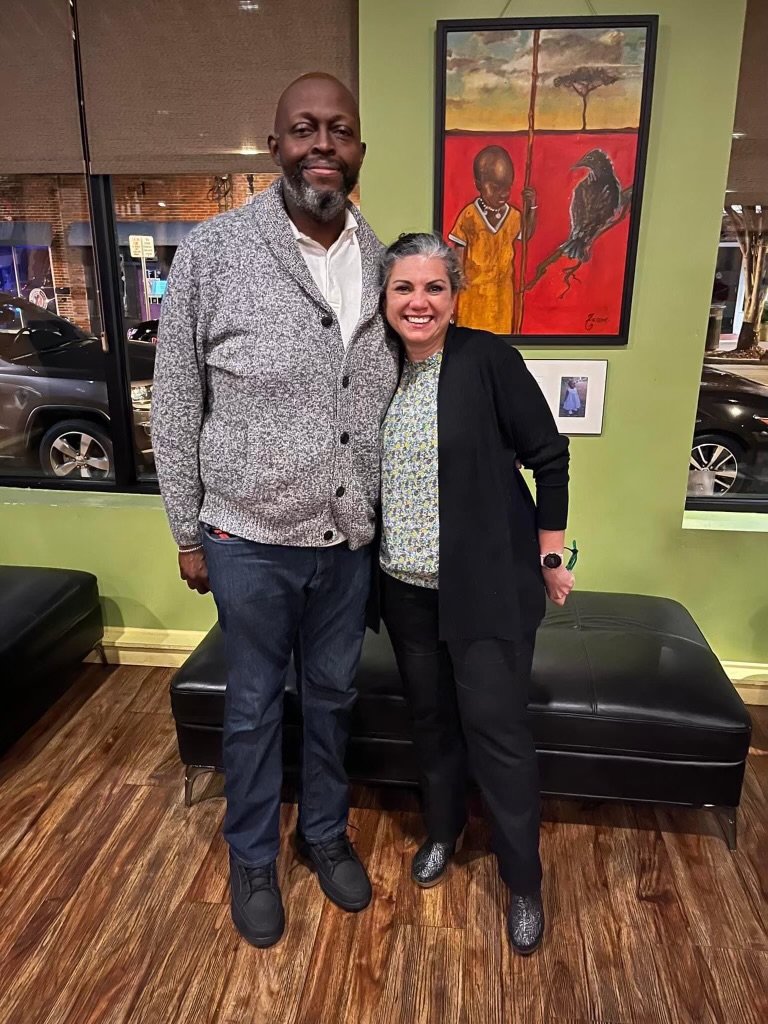 My name is Carla Flores-Ballesteros, I moved to North Carolina in 1998 with my husband and two children at the time. Our youngest son made his arrival in 2003 in High Point where we reside. I have worked in schools for 31 years in two countries and 6 schools. I am retiring from the school system at the end of August and will begin a new opportunity in my career with Participate Learning as a Program Manager.
My recipient, my kidney brother, is John Brown. Our life paths crossed through my dear friend and former supervisor, Patrice Brown (John's wife). One day Patrice and I were talking, and I asked how John was doing, knowing that he had been struggling with his health, including kidney failure, for quite some time. She shared that his potential donor had not worked out to which I responded, "I'll do it".
The day of the surgery was a gift from God. My Husband (Jorge) and I met John and Patrice at the waiting room, we prayed together, hugged, took our "required" picture together and went to check-in. They called me first, so we said our goodbyes. My husband and I went to the preparation room where I was met with a wonderful team. Dr. Jay, who happens to be the most amazing surgeon, came to speak with me right before they took me in. From day one when I met Dr. Jay while I was going through the process to become a donor, she made me feel at peace. She was knowledgeable, approachable, and caring. She explained every single step of the process with such detail that I knew I was in great hands.
After surgery I was in some pain but nothing that could not be managed. I slept for most of that day, especially after I heard that John was doing well. I only stayed in the hospital for two days. When I was leaving, I walked to John's room before I left. He looked so good!
I went in healthy, and I came out healthy. I stayed home for 6 weeks after surgery to make sure I was healing completely so I can continue with my normal routine including working, running, and hiking. Donating a kidney did not alter my lifestyle. Having to stay home for 6 weeks allowed someone else to keep on going with their life for many years. Any of us can help improve someone else's life. Some of us choose to do it while living, some decide to become donors when they are deceased. Either way, we have the power to help others have a better quality of life. Are you ready to take the challenge?