Monday, December 5, 2022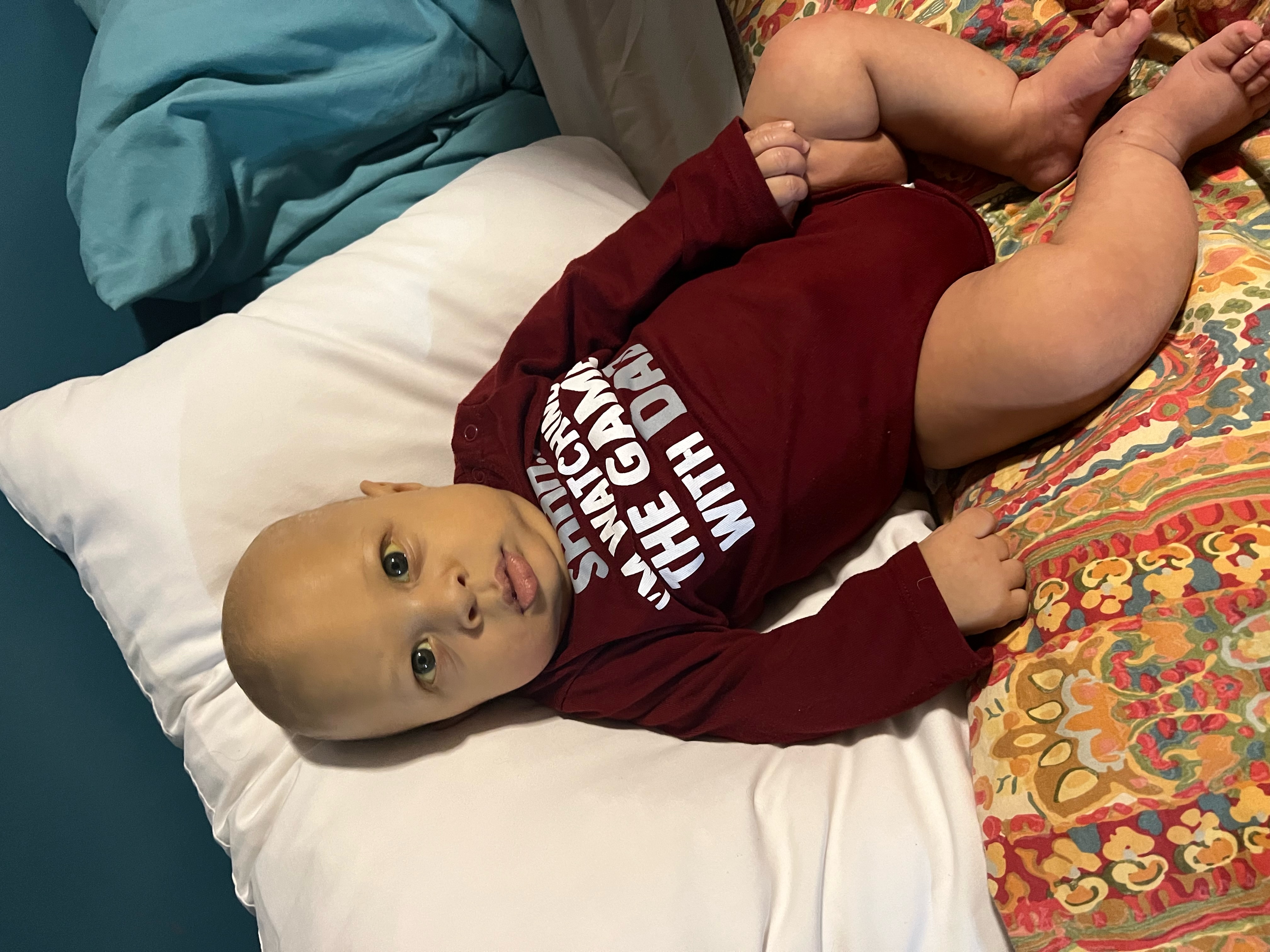 We're sharing the Westendorf family story. Baby Corbin was born with a rare liver complication requiring a transplant. We'll follow his transplant journey with his mother, Lindsey. This is the first installment of our interview series.

My name is Lindsey Westendorf and I'm a lifelong native of Raleigh NC. My son Corbin Baker was born here on the first of July of 2022.
Can you describe your family a bit and tell us about Corbin's birth?
I have four children all together. Weston 10 yr. old boy, Grelyin 7 yr. old girl, Emerson 3 yr. old girl, and Corbin a four month old boy. He was not planned, as we were done having children, or so we thought. I had the best pregnancy out of all four, and though nothing ever proved to be wrong on the ultrasounds I just had this gnawing feeling something was going to be wrong with him. He came three weeks early due to preeclampsia. I had him naturally at WakeMed North, and it was a wonderful experience aside from having to be induced early, as I was not anticipating that all my other births were full term. All was normal the first 24 hours, then his bili shot up which wasn't totally alarming because I had one other child that had to go under "the lights" until discharge too. Although, it continued for days after birth.
What was your experience with transplant before Corbin?
Prior to Corbin I have only known two other people in my close circle that have been transplanted. One was a heart transplant recipient, my best friend's sister, and she was transplanted at the age of 23. The other was my aunt who had a double lung transplant at the age of 50. Both are doing well thankfully, and are both about ten years or so post op.
When and how did you learn your baby would need a transplant? 
At birth his bilirubin would not come down, and that first week knew something was wrong. We went back and forth to the hospital and the Peds. Between the constant labs, and appointments I was beyond exhausted, but in my heart I just knew. The first week of life we had an ultrasound and they could not find the gallbladder, and I spent hours researching all possibilities, and stumbled upon BA. His Peds mentioned a few things it could possibly be, and BA was something mentioned that first week. I was devastated, but still didn't have any solid answers, just labs that were flip flopping all over the place. I reached out to a fellow friend and mother who has a BA child, and asked tons of questions. 
By week three after a solid week (week 1-2) on the bili blanket at home he was not stabilizing. None of his labs were trending in the right directions, and were referred to a specialist. We had a HIDA scan at the end of week three and again no solid answers. By week four we thankfully had got a personal referral to Duke. By week five we touched base with the Live Team there at Duke, and they moved on it and had a biopsy scheduled. 
About seven weeks after his birth we went in after many tests and labs that we found out via a Cholangiogram (exploratory surgery) that he was officially diagnosed with Biliary Atresia. During that time testing from a previous biopsy came back that he also had Alpha-1 Antitrypsin Deficiency. Corbin has two very rare liver diseases, and the doctors said there are no metrics on how rare it is to be born with both liver diseases. During the Cholangiogram we found out he was not a candidate for the Kasai procedure, and would be going directly to transplant once his liver got "sicker".
When did he actually get placed on the transplant waiting list? 
How long have y'all been waiting?
As of 11/17/22 they started evaluation for Crobin to be placed on the list. On 11/22/22 we got word that the doctors approved him to be listed, and now we are just waiting on insurance to approve it.
Do you feel like you have a support system during this time, if so, who? 
I am so thankful for my tribe. I have a very close circle who have shown up for me, and my family. My mother and sister first and foremost have been such vital help through this time. I truly couldn't have done it without them. I have some really close friends that are stepping up and helping my family in my absence. We also have a meal train my sister started and so many of our supporters have offered a helping hand, and a hot meal. Those acts of service truly take the burden off of us in the thick of it. The gift cards, and coffee cards, and all the monetary donations have helped considerably while I am not working. Grateful is an understatement.
How would you say your life was different before having to go on the transplant waiting list?
So much has changed in these last four months since Corbin has been earthside. My life is not the same and never will be the same again. It has been so hard advocating for him, learning the medical lingo and world, but most of all working through the changes of the family dynamics, and being away from my other children. Waiting in limbo constantly, never knowing if we will be admitted, nervous of the Bigs bringing sickness home from school, the constant labs and appointments are what weighs so heavy on the heart.
What has helped you so far while you wait for a transplant for Corbin?
Our tribe. I truly couldn't have done this without the help, and constant uplifting messages. I am so thankful we have such loving and supportive friends, and family.
Reaching out to all the FB groups, and social media people that are going through the same thing. Everyone has a different story, but they are living the same nightmare. I have fully entrenched myself in care studies, and all the education I can get my hands on to better learn more about my son's diseases' and be the best advocate I can possibly be. Spending as much time at home with my family in the meantime, and making memories with us as a family. Many people think going through the "sickness" is the hardest, but honestly for me it was the not knowing before the diagnosis that has been the hardest thus far. The waiting is a terrible game of cat and mouse in my opinion. The constant ups and downs of where I am going to be troubles me, and wears on my heart for my other kids. Our family dynamics are constantly changing. It is tough trying to balance everything and make sure none of my children feel the fear I feel or the sadness I do. I miss them terribly when we are away, and I am constantly trying to make sure I am supporting them and their needs as well as their baby brother, Corbin.
What would you like people to know about what it's like for an individual or a family to go through on the list?
Surround yourself with a tribe. Reach out to as many people as possible and educate yourself on what lies ahead. I am very much a person who wants to know every detail, and I feel like that has helped prepare me. Granted, no one and nothing can prepare you for this. It is a constant rollercoaster of emotions, feelings, and mental fatigue. It is an exhaustion that I have never felt before. My entire body hurts from stress, and my mind is constantly running and rarely turns off these days. Evaluation is TONS of labs, be mentally prepared for those hard lab draws, and constant pokes. I wished someone would have warned me about that. Keeping a bag packed, routine when you are home, and living by alarms for meds has also helped ease my anxiety a bit. They are right when they say this isn't a sprint, this is a marathon. Take it day by day, moment by moment as much as you can, and lean on your tribe when you need to.
There is a quote that resonated with me as his Mom."You gain strength, courage, and confidence by every experience in which you really stop to look fear in the face. You are able to say to yourself, "I lived through this horror. I can take the next thing that comes along." -Eleanor Roosevelt
This is the quote I think of when I think of my son, and what lies ahead and what he has already overcome. He has endured more in his short time alive than most grown men or women. He is STRONG, he is MIGHTY, he is COURAGEOUS. My little Courageous Corbin.
"We don't develop courage by being happy every day. We develop it by surviving difficult times and challenging adversity." -Barbara De Angelis