Monday, May 28, 2012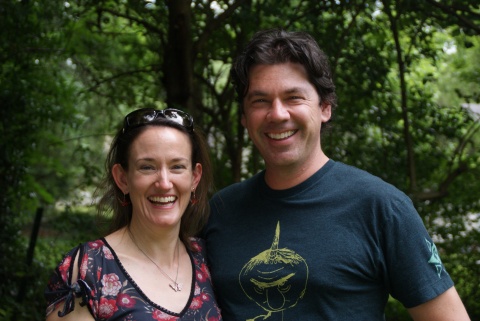 Before Sean Lilly Wilson even opened the doors of Fullsteam Brewery in Durham, NC, he faced his own need for a life-saving organ transplant. After seven years of kidney disease, Sean was placed on the national organ donor waiting list and began dialysis.  Fortunately, his wife Carolyn and her precious gift of life brought new hope to Sean and their family.
I was diagnosed with focal segmental glomerulosclerosis (FSGS) in 1999. The doctors told me I would likely experience a gradual decline in kidney function over the next five to ten years. They were correct:  my kidney function lid to under 10 percent by the spring of 2005. I was placed on the national organ donor waiting list and started dialysis on February of 2006.
My doctors presented living donation and waiting for a deceased donor at the same time. I added my name to two separate transplant lists (Duke and Carolinas Medical Center in Charlotte). It seemed like the wait was going to be very, very long. Meanwhile, a number of friends and family offered to be tested -- most notably, of course, my lovely wife Carolyn! She explored organ donation prior to me going on dialysis.
Time was the main factor:  that it could take years for me to receive a deceased donor's kidney. Also, my doctors informed me that the success rate of a deceased donor's kidney would be lower than a living donor -- even if the organ came from a healthy younger person.  Third, there's something about knowing the person who gives you life. I recall thinking that, even if the kidney donation didn't take, Carolyn was giving me the ultimate gift.
Between all the testing and evaluations, it took around six months to confirm that she was an appropriate match. Thankfully, all the tests confirmed that Carolyn was indeed a good match for me, and she donated her kidney to me on June 12, 2006.
Carolyn was warned that her recovery would be more difficult than mine, which was true. I was healthy for the first time in years; Carolyn felt like she had an organ taken from her body. She was surprised (and not quite ready) to be discharged 24 hours after a five-hour surgery. But she recovered within a week or two, and is living a normal life. I am in great health. The only issues I've had involve side effects from medication. I fully expect to live a long, happy and health life, thanks to my amazing wife.
We've always been lists as organ donors. Many people still think you have to be related by blood to be a match, and this clearly isn't the case. We only had a few antigen matches -- but with all the advances of modern medicine, it was more than enough to make it all work. People talk about "perfect matches" as if that's the only way organ donation will work. Carolyn and I had three out of seven antigen matches. We're not a "perfect match," medically. But we are in every other possible way.