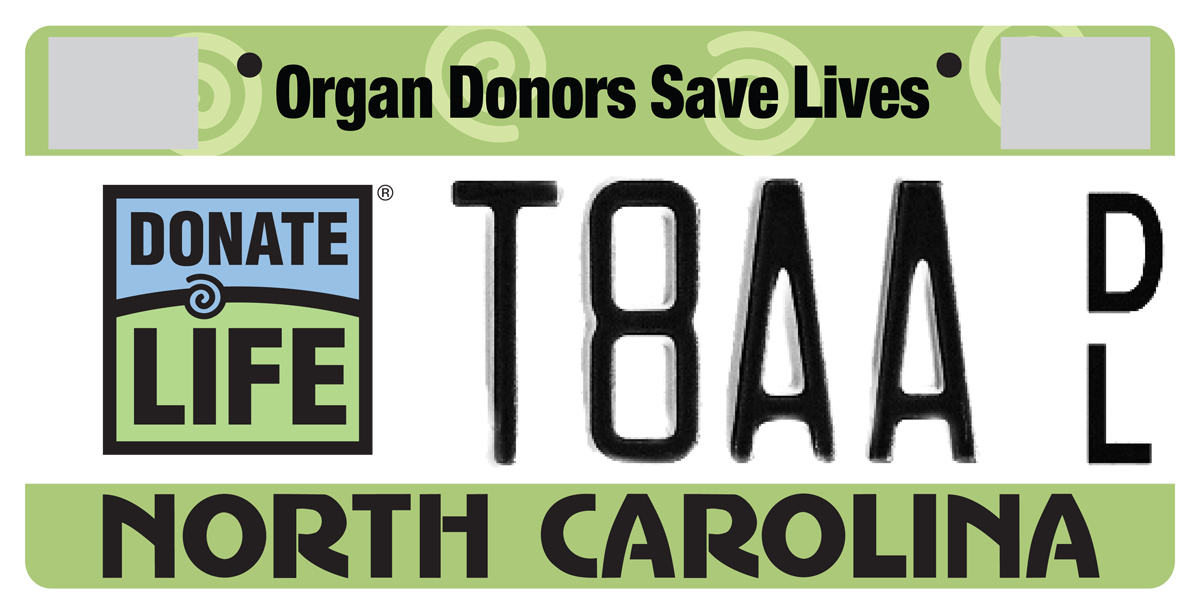 Each time you drive your car or park in a public space, you can share the message of the life-saving power of registering as an organ, eye and tissue donor thanks to the North Carolina General Assembly. During its past session, the North Carolina Legislature authorized a Donate Life License Plate with proceeds benefiting and organ, tissue and eye transplant recipients as well as donor families through our state's five transplant centers and through Donate Life North Carolina.
You can order your Donate Life License Plate TODAY at your local license plate agency or online through the DMV here.  A regular Donate Life License Plate has an annual $20 fee due in addition to the regular license fee. A portion of your fee for the specialty tag will be sent to Donate Life North Carolina to be shared with Carolinas Medical Center, Duke University Medical Center, Vidant Health (formerly ECU/Pitt Memorial), UNC Health Care and Wake Forest Baptist Health. You may also have a personalized Donate Life License Plate for a $50 annual fee with four (4) spaces for a personalized message. Each year as you renew your license plate registration, a portion of the renewal fee will also be distributed to encourage donor registration and to support families.
Thank you for your support and willingness to help "drive" donation across North Carolina!