Monday, June 30, 2014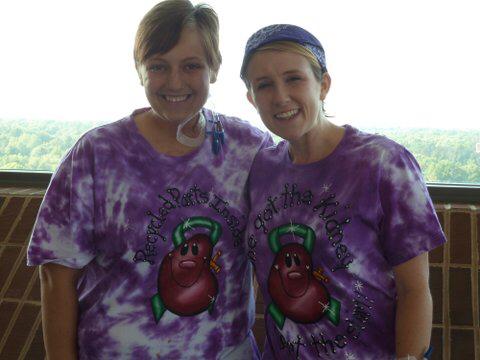 I first heard about Amy's situation back in early 2012. I have been friends with her sister-in-law for a long time and had met Amy once or twice before at summer camp, but I didn't know her very well. My heart went out to her. She was about my age and was having to put her whole life – her dreams, passions, and goals--on hold because of lupus, an autoimmune disease that caused her immune system to attack and destroy her kidneys. I learned that Amy was on dialysis three times a week and couldn't work, go to school, or live normally, and I couldn't imagine living life like that.
I was also moved and inspired by Amy's attitude. In spite of her struggles, she was optimistic, engaging, and full of sunshine. She needed a kidney transplant, and we had compatible blood types. I decided I at least had to try to see if we'd be a match, although I was pretty sure the odds were way too crazy. "It could never happen. We're not related," I thought. But my heart kept whispering, "Just try it. It might work out."
We had to wait a long time with a lot of emotional ups and downs, but the whole process has been the most enriching, beautiful experience of my life. I'll never forget the day we found out we were a match. I was stunned…and overjoyed! Not only were we a match, we were a very, very close match, which is rare for non-relatives. Over the past two years, Amy and I have grown to be very close friends, and I have such a deep love for her and the whole Scruggs family.
During the waiting period, in between many hospital visits for donor and recipient evaluation, we had time to do everything we could to raise money to help cover Amy's medical expenses. The goal was $10,000, and it seemed like we'd never get there, but we made it! Through generous online donations from family and friends, spaghetti dinners sponsored by my fabulous employer Trader Joe's in Cary, NC, and selling these crazy "Llamas Against Lupus" t-shirts we designed, we were able to reach Amy's financial goal. God provided for us in so many ways.

When I got the call that we were approved for surgery scheduled for May 20, 2014, I was shaking with joy. I couldn't call Amy fast enough. The surgery is a blur, but everything went as smoothly as possible and we are both doing great! Doctors have said the kidney is working extremely well and are thrilled that we were such a good match. I am thrilled and thankful beyond words to have been able to play a small part in Amy's story. She has been an inspiration to so many who are suffering with chronic illness, and the ripple effect has been phenomenal. I hope that our story inspires many more people to consider living kidney donation – it is one of the most incredible experiences you can be a part of and there are so many people waiting for their gift! Glory be to God who has done a mighty work, He has shown us that his timing is always perfect.
(Amy and Addie had their surgery at Wake Forest Baptist Transplant Center.  Learn more about their transplant services here.]