Wednesday, July 31, 2013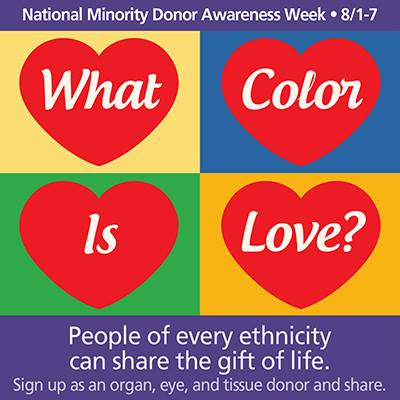 At the recent Donate Life America Annual Meeting, a donor wife said something profound: "I didn't say yes to donation because it was the right thing to do. I did it because it was the loving thing to do." This year's theme for National Minority Donor Awareness Week is "What Color is Love?" This theme brings the "loving thing to do" to light– giving the gift of life is the loving thing to do and people of every ethnicity can give. Love has no color or ethnicity and neither do our organs, eyes and tissues.
We commemorate National Minority Donor Awareness Week every year August 1-7 because the need is so great. I'll share the statistics below, but most of all, I want you to know that there are real faces and families behind the disparity in the numbers of people on the transplant waiting lists. For me, a close reminder of this is my former colleague, Clay. I was catching up on Facebook early one morning during the first week of July to read his post announcing he'd received a kidney transplant the day before - after waiting for years for the gift of life. It's extraordinary that early the next day, he was well enough to announce his transplant to his friends on Facebook and to post regularly about how well his recovery is going. The last time I saw him, he struggled to walk down the hallway at work and had to stop working due to his disability. Now he has a future.That's the power of a love that is blind to race or ethnicity at work through the miracle of donation and transplantation.
Yet the numbers are daunting. African-Americans are four times more likely than Caucasians to be on dialysis because of kidney failure, which must often be treated by kidney transplantation. Diabetes, a leading cause of kidney failure in the US, is estimated to be four to six times more common in Latinos/Hispanic-Americans.17% of all patients awaiting organ transplants in the United States are of Latino heritage.
Meanwhile, last year there were 11,309 transplants performed for ethnic minorities. Today there are 72,387 minorities waiting for a life-saving transplant. While organs are regularly matched and transplanted across racial lines, transplant success rates increase when organs are matched between members of the same ethnic and racial group, so there is a great need for more minorities to register as donors. Minority donors can help us close that gap.
Help us to raise awareness to inspire more to register as organ, eye and tissue donors this week so that more people like my friend Clay can benefit from the loving gift of life!