Friday, May 8, 2015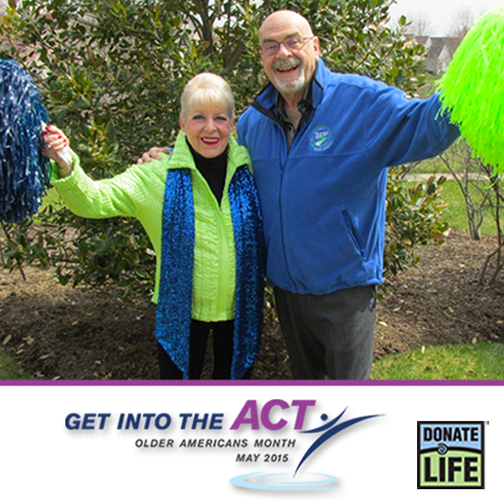 The nation's oldest organ donor was days away from his 93rd birthday when he gave the gift of life, proving that anyone of any age has the potential to be a donor. During Older Americans Month, have a conversation with an older loved one in your life to make sure they know that they have the potential to save and heal lives through donation.
As we age, we think more about the legacy we want to leave for our families and community.  Deciding to register as an organ, eye and tissue donor is an opportunity to leave an extraordinary legacy that will outlive you, while providing life, hope and renewal to up to 50 other people!  Imagine what a legacy it is to have the potential to save up to eight lives as an organ donor and save or enhance the quality of life of up to 50 more through tissue and cornea donation. 
Those that leave a legacy as donors not only provide new life, they can give someone renewed sight.  They can provide new mobility after a knee injury.  They can save the life of a burn victim.  They can even help heal cancer patients with donor bone.  The list of ways that you can live on and help others as an organ donor is awe-inspiring.
It is an extraordinary gift that everyone can leave a legacy as a potential donor regardless of age, race, ethnicity, gender or medical history!  You can be a donor even if you have a history of cancer, take medications for high blood pressure, or live with diabetes or other chronic diseases.  Your medical condition at the time of death will determine what organs and tissue can be donated – so don't rule yourself out!  With advances in medical care, we can only imagine what might be possible in the future.
Registering as a donor is easy – you can say "yes" at the DMV and have a heart placed on your driver's license to register.  You may also register online at DonateLifeNC.org/register or you can call us to request a paper enrollment form at 919-794-7693.  Joining the NC Donor Registry means that you have made a legal decision to become a donor at the time of your death.  For those 18 and older it is a decision, just like your will, that cannot be overturned by others.
Whether you have been registered for years (thank you!) or are just signing up for the first time, please make sure your loved ones know about your decision to save lives through organ, eye and tissue donation. Sharing your decision with your family is a gift--letting them know the certainty of your decision to help others in need.
Get in the act – register your wishes to leave a legacy to save lives today!
(This article was first published by The Durham Herald on May 3, 2015