Thursday, September 1, 2011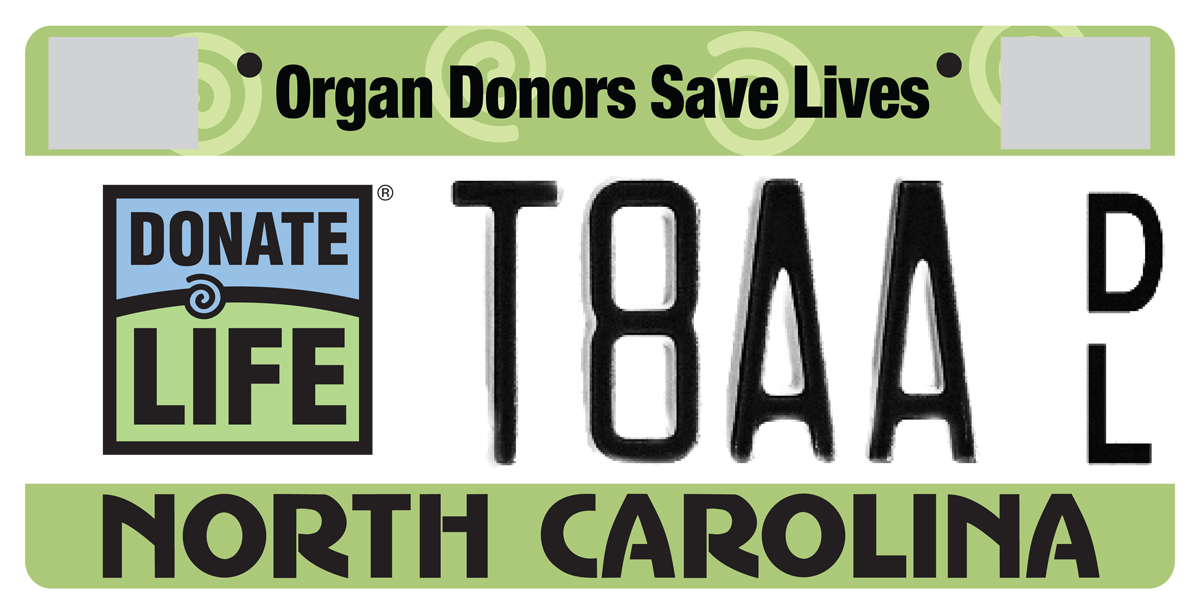 Each time you drive your car or park in a public space, you can share the message of the life -saving power of registering as an organ, eye and tissue donor thanks to the NC General Assembly.   Legislation passed during the Session that ended in June authorizing a Donate Life License Plate with proceeds benefiting Donate Life North Carolina and organ, tissue and eye transplant recipients and donor families through our state's five transplant centers.
License Plates will begin production when 300 applications are received.  If you are among the first 300 applicants, your application fee will be held in trust by Donate Life North Carolina until begin production of our first plates. A Regular Donate Life License Plate is an annual $20 fee due in addition to the regular license fee.   A portion of your fee for the specialty tag will be sent to Donate Life North Carolina to be shared with Carolinas Medical Center, Duke University Medical Center, East Carolina University Medical Center, UNC Health Care and Wake Forest Baptist Health.  You may also have a personalized Donate Life License Plate for a $50 annual fee with four (4) spaces for a personalized message.  Each year as you renew your license plate registration, a portion of the renewal fee will also be distributed to encourage donor registration and to support families.
You may complete this application and return it with the required fee to Donate Life North Carolina until the first 300 applications are received.  After that time, you can apply at any DMV License Plate office.  For more information, email info@donatelifenc.org.